There's No Escape From This U.S. Car Crash
(Bloomberg Opinion) -- Automakers in the U.S. just had a bad month. Buckle up: It's going to get worse.
Sales cratered in September. Toyota Motor Corp.'s dropped 10 percent, Honda Motor Co.'s were down 7 percent, Ford Motor Co. posted a decline of about 11 percent and Nissan Motor Co. saw deliveries fall 12 percent. A worsening U.S. auto market should be no surprise amid the shift in demand to SUVs from sedans and other models, as we explained last month. Retail and fleet sales both dropped.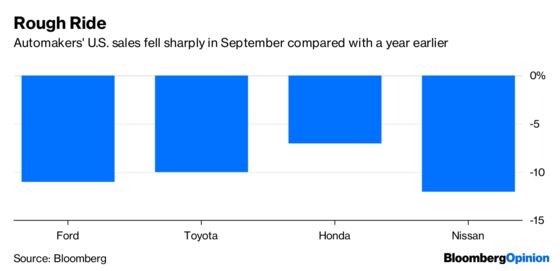 Investors shouldn't think this is the bottom. Globally, the ride for automakers is set to get rougher.
The impact of tariffs and threat of further trade actions is beginning to show. As Ford's CEO Jim Hackett said last week, the company could be looking at a $1 billion hit to its bottom line from metals tariffs. Rising input costs mean manufacturers will have no choice but to start pushing them through to consumers. Cars are already getting expensive in the U.S., as Tuesday's results showed: Transaction prices rose an average of around 2 percent, or close to $700, across the board. Honda's were up as much as 4.6 percent and Ford's climbed about 3.2 percent.
When the auto industry is done fretting about the U.S. market, there will be the U.K.'s withdrawal from the European Union to contend with. Toyota warned this week that a hard Brexit would "disrupt" weekly revenue of $78 million at its British plant, which makes about 3,000 cars a week. Annualized, that's more than $4 billion a year at stake.
One strategy to brace for the tough new world has been the pivot to China, which we wrote about here. There's still at least a semblance of sales growth in the world's biggest car market, though it has slowed in the past couple of years. Toyota is going as far as transferring technology behind its Prius hybrid to Beijing – setting a scary precedent for what it might take to be successful there. Nissan has said it wants China to be its biggest market.
But here's the thing: It may be too little, too late for the Japanese carmakers. They haven't built a commanding market position in China and were left behind by the sales surge of 2016 and 2017. Trying to grab share when demand is showing cracks is unlikely to be a sustainable strategy. Data last month showed retail sales of locally made cars were down around 11 percent in August from a year earlier. SUV sales are dropping and talk of consumers retrenching is widespread.
Going by President Donald Trump's rhetoric, China is the number one target of U.S. trade actions. The resulting uncertainties may make it difficult for carmakers to justify extensive cost outlays.
All told, the auto industry is looking at rising expenses and ever-shrinking margins from many different directions, including the global trends of electrification and tighter fuel-economy rules. 
Carmakers may need to seriously retool their strategies.
This column does not necessarily reflect the opinion of the editorial board or Bloomberg LP and its owners.
Anjani Trivedi is a Bloomberg Opinion columnist covering industrial companies in Asia. She previously worked for the Wall Street Journal.