Italy's Next Big Test in the Bond Market
(Bloomberg Opinion) -- Italy may have dodged one blow, but its fight is far from over. After escaping a ratings downgrade from S&P Global Ratings last week, Tuesday's government bond auction will be the next test of investor appetite.
Tuesday will see 2 billion euros ($2.3 billion) of five-year and 2.5 billion euros of 10-year bonds offered. With the country enmeshed in a budget battle with the European Union, and the European Central Bank preparing to stop its bond purchases, Italy badly needs to attract buyers.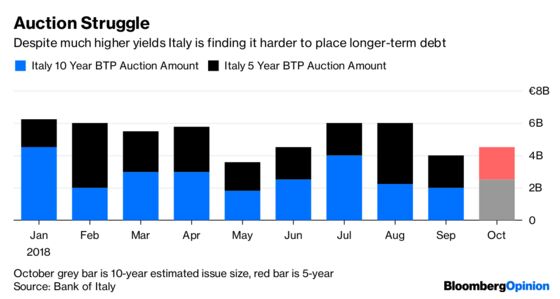 But the government has been struggling to find purchasers for longer-dated debt in recent months even as yields have climbed to levels second only to Greece. Italy has had to cut the amount for sale at its monthly 10-year bond sales, relying increasingly on bond exchanges and intra-auction placements.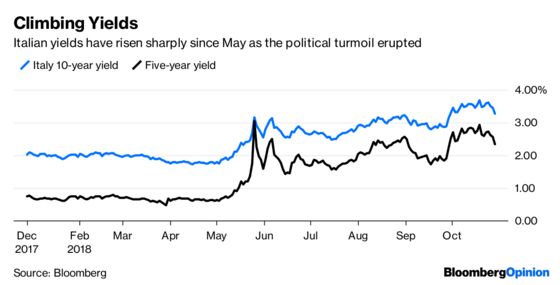 In its favor, Italy will be the only euro-area country to sell regular bonds this week. It should also get a lift from the 15 billion euros of cash returning from maturing Italian government bonds and coupon payments.
With that backdrop, it is all the more important that demand is strong on Tuesday – because the tailwind will drop away sharply next month. There are no redemptions due for any of the euro-area countries in November – the first real test of how wider investor demand holds up since the ECB halved the pace of its bond-purchases at the end of the third quarter.
Italy needs to issue more than 250 billion euros of bonds in 2019, 12 billion euros more than this year. According to NatWest analysts, 70 billion euros of this will be in the most risk-sensitive 10-year or longer maturities.
The big question is who will replace the ECB as a buyer. The risk is the Italian banks step in, and reinforce the doom loop between the sovereign and domestic lenders. Italy's banks resumed their purchases of domestic government securities in September, after a brief hiatus in August, and now hold 378 billion euros of the nation's debt – the most of any euro-area country.
With the credit rating companies pulling their punches, and the EU budget talks dragging on, it is the bond market that will be the true arbiter of Italy's fate.
This column does not necessarily reflect the opinion of the editorial board or Bloomberg LP and its owners.
Marcus Ashworth is a Bloomberg Opinion columnist covering European markets. He spent three decades in the banking industry, most recently as chief markets strategist at Haitong Securities in London.