Italy's $7 Billion Cash Grab Sends the Wrong Signal
(Bloomberg Opinion) -- Italy's populist government isn't the only one to loosen the purse strings this past week. The country's mobile phone operators are at it too, albeit very unwillingly.
Carriers in Europe's fourth-largest economy are set to shell out record fees for 5G spectrum, the frequency band that will let them provide the next generation of mobile networks. The auction encapsulates many of the problems facing European telecoms firms today.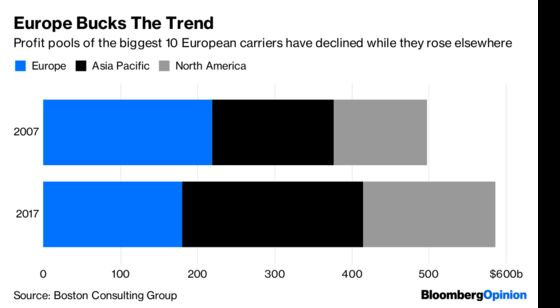 The competitive landscape in Italy was already difficult. While companies in markets from the U.S. to France have been urging regulators to allow mergers to cut the number of rivals, Italy has opened the door to a fourth operator: Xavier Niel's price-slashing Iliad SA. Its entry to the market in May is good news for consumers, but not for investors in the three incumbents, Telecom Italia SpA, Vodafone Group Plc and CK Hutchison Holdings Ltd's Wind Tre SpA.
The question that faces telecoms companies everywhere is how you maintain investment in infrastructure and technology while cutting prices. AGCOM, the Italian regulator, certainly hasn't helped with how it structured the 5G auction. The companies even considered boycotting the process because they felt the rules were too rigid and the starting price too high. Yet the bidding has reached 6.2 billion euros ($7.1 billion.) For comparison, the 4G auction in 2011 reached just 3.9 billion euros, and Italy was only anticipating 2.5 billion euros this time around.
Given Italy's own budget pressures, you'd think any extra cash would help. But its regulatory approach here has been short-sighted and ill-considered. By offering just a few tranches of frequency, and no visibility on when further packages might become available, it left the carriers little option but to pay top dollar for the current offering. Increasing the costs for the industry while adding another competitor doesn't seem like a recipe for long-term success.
It's not alone in doing this. In the U.K., carriers' initial 5G spectrum bill of 1.4 billion pounds was a fraction of the Italian fees, but it was still a record. And it comes as British regulators continue to oppose consolidation.
Something has to give. Telecoms stocks are the worst performing in Europe this year. While companies enjoyed rapid growth as mobile phone adoption surged in the 15 years from the turn of the millennium, stagnation has been the overwhelming trend in recent years as the market became saturated.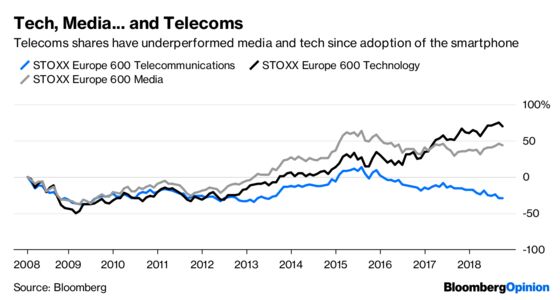 By the time prospective acquisitions by Vodafone, Deutsche Telecom AG and Telia AB are taken into account, the leverage of European carriers will reach record highs next year, according to analysis by JPMorgan analysts including Akhil Dattani. That's even before the biggest part of the 5G investment, the actual networks. While the industry has always relied on debt, there used to be high growth and strong margins to go with it.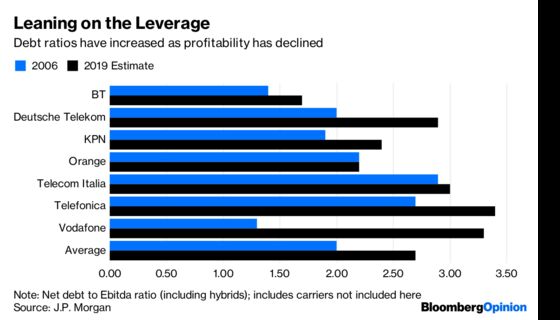 Regulators aren't the only ones to blame. Carriers have used debt to help prop up shareholder returns too. Back in 2005, the average dividend payout ratio was 52 percent of equity free cash flow, according to JP Morgan. Now it's more than 70 percent.
Governments like to talk about leading the way with 5G and fiber networks. That infrastructure supports other high-tech industries. In France and Germany, regulators have been more astute in reducing spectrum costs in return for commitments to roll out networks in rural areas. Elsewhere, state actions do not support the rhetoric.
There's plenty that carriers can do themselves to become more competitive. And 5G deployment will ultimately help them cut costs, so you can understand why national governments are pushing them in this direction. Nonetheless, European regulators are playing a risky game by using this as a quick cash grab.
This column does not necessarily reflect the opinion of the editorial board or Bloomberg LP and its owners.
Alex Webb is a Bloomberg Opinion columnist covering Europe's technology, media and communications industries. He previously covered Apple and other technology companies for Bloomberg News in San Francisco.