Italy Gets Starvation Rations From Mario Draghi
(Bloomberg Opinion) -- What could the European Central Bank realistically do to help Italy, even if it were so minded? Not much, is the depressing answer — in specific new aid anyway. That's unless Italy ends up getting itself in such a mess that it's forced to hand over financial control and enter into another ECB bailout program.
We're nowhere near that point, of course, and it's certainly not something the ruling populist coalition would countenance. In the meantime, Italian government bond investors will have to fend for themselves through Rome's ongoing budget battle with the European Union up until May's European Parliament elections. The only thing ECB boss Mario Draghi can realistically do is try not to make the situation worse.
The ECB's next meeting on Dec. 13 is going to have to take some momentous decisions, after putting them off until the last possible moment. It will almost certainly halt its QE bond-buying programs, which have amassed more than 360 billion euros ($406 billion) of Italian sovereign debt. So, bar maintaining this existing stock, that will be it.
Yet it's hard not to worry about Italian growth, which flatlined in the third quarter. Draghi, while noting recent softer euro-area economic data, stressed at his Nov. 21 press conference that overall conditions in Europe remain broadly balanced. That was code for "Don't expect any major policy change or extra QE." The EU's economic glass is resolutely half-full, regardless of Italy.
Bloomberg Economics has a distinctly less rosy outlook on Italy, however, than either the populist government in Rome or the European Commission. Bloomberg's economists say growth could be just half a percent in 2019. Indeed, the October cooling of the Italian business environment suggests a technical recession is a growing risk, just as the QE taps are turned off: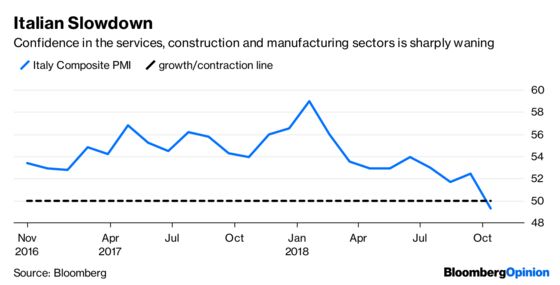 Pumping extra liquidity into Italy's banking system is about the only major stimulus the ECB could offer via its targeted long-term repurchase operation (TLTRO for short), a way of providing super-cheap funding to banks that can put up eligible loan collateral. But that's unlikely in December, given it would confuse the message over ending QE.
The tricky thing with regards to Italy is that the ECB's mandate explicitly forbids it from setting policy that favors any one country. Italian banks would presumably be heavy participants in any new TLTRO, although with their weakening credit ratings there may be a dearth of acceptable assets. It may prove very difficult indeed to administer help where it's most needed.
The current TLTROs have four-year terms, but offering four more years of free credit is unrealistic given Europe's return to a semblance of economic and financial normality. So any new TLTRO would no doubt be restricted in size and length, with stringent conditions to prevent weaker banks gorging. They will have a variable interest rate too so as not to contradict the ECB's forward guidance that rates will rise in autumn 2019. 
Elsewhere, changes are also due for the ECB's reinvestment policy, which could theoretically assist Italy. Options such as reinvesting the money from the maturing bonds of stronger countries into weaker nations are unlikely to win approval. But an extension of the deadline by which maturing holdings have to be reinvested is feasible. That might at least offer some breathing space for Rome.
Another potential problem for the coalition is the ECB's so-called "capital key measure," which determines how the QE holdings are allocated and is up for review in January. Because of changes in its GDP and population, Italy's share of the pot will have fallen — meaning that in theory 28 billion euros of the ECB's Italian holdings would have to be disposed of. But it's more probable that the cut will apply at first only to reinvested new purchases.
Such meager rations are hardly something for Italian bond investors to feast upon, but then maybe that's the message the EU wants to send. There's little to stop the Italian-German yield spread from widening further.
This column does not necessarily reflect the opinion of the editorial board or Bloomberg LP and its owners.
Marcus Ashworth is a Bloomberg Opinion columnist covering European markets. He spent three decades in the banking industry, most recently as chief markets strategist at Haitong Securities in London.