Italy Gets a Little Breathing Room
(Bloomberg Opinion) -- Italy's successful bond exchange gives it some breathing room. The deal will cut the amount of debt the country needs to refinance in 2020 and give it more time to repay its borrowings.
On Thursday, the Treasury switched a larger-than-expected 3.8 billion euros ($4.4 billion) of inflation-linked paper maturing in April 2020 for five longer-dated bonds with maturities of roughly seven, 10 and 28 years.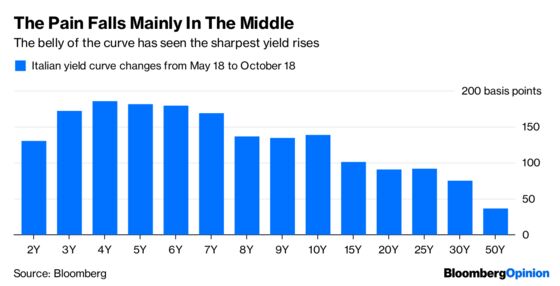 The exchange should help to steepen the Italian yield curve, which has flattened significantly since May, when the country's political turmoil spread to markets. Any steepening would help the country's banks, which borrow at shorter maturities and lend longer at higher rates.
Bond swaps are a useful way for Italy to reduce the need to sell riskier, longer-dated paper – something that has been increasingly tough to do its regular monthly auctions. By selling long-dated paper along the yield curve in small amounts in periods when there is no official supply, it can find buyers. It helps the primary dealers, too. Not only do they get generous fees, they can gain access to bonds that are in limited supply, such as the cheapest-to-deliver issue into the 10-year futures contract.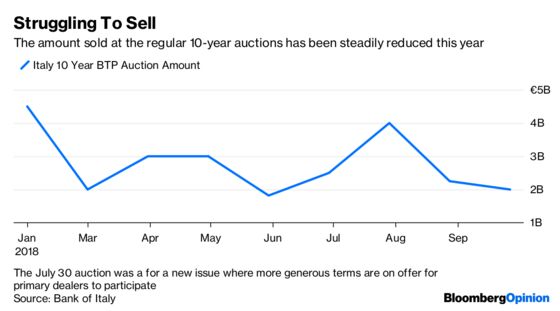 The next regular five and 10-year auction on Oct. 30 will come shortly after both Moody's Investors Services and S&P Global Ratings are expected to downgrade their credit ratings on Italy to just one step above junk.
But after the two recent bond exchanges, Italy has less than five billion euros of 10-year bonds left to sell this year, according to NatWest analysts. This means the government can probably complete its 10-year funding comfortably at the October and November auctions, and still cancel the December sale as it usually does.
Treasury officials are doing what they can to smooth any financing ructions – but no more than that. They aren't raising more cash, and the country will still need to raise more than 250 billion euros next year. Whether Italy's debt financing remains on course is in hands of the country's populist politicians.
This column does not necessarily reflect the opinion of the editorial board or Bloomberg LP and its owners.
Marcus Ashworth is a Bloomberg Opinion columnist covering European markets. He spent three decades in the banking industry, most recently as chief markets strategist at Haitong Securities in London.