Only the Bond Market Can Put the Boot Into Italy
(Bloomberg Opinion) -- The Italian government confirmed on Monday that it fully intends to stick with its aggressive budget plans, though it says it's ready to intervene if debt or deficit ratios exceed its targets. Yields on 10-year Italian government bonds were little moved on the news as the country awaits the EU's response.
The intransigence of Rome's populist leaders is unlikely to impress Brussels, which has until Oct. 29 to reject the budget as non-compliant and to order revised plans. It's likely that the EU commissioners will decide not to wait, and do exactly that at their meeting on Tuesday in Strasbourg.
But with this political dance between Brussels' rejections and Rome's resistance expected to drag on for the rest of the year, with little resolution, it's really up to the markets to act as the real arbiter of what is acceptable or not in terms of Italy's intentions.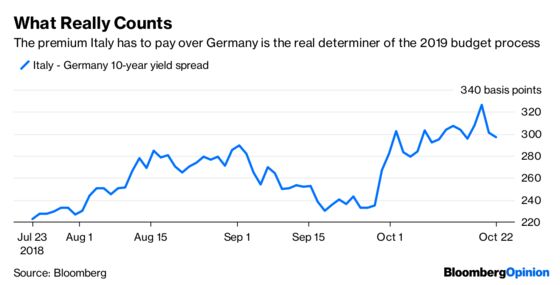 There's not really that much the European Commission can do in the immediate term, as it will probably have to wait until May to wield the big stick of initiating its so-called "Excessive Deficit Procedure." And that whole process will be tortuous. Fines have never been applied to any country, with previous breaches by France and Germany overlooked.
Indeed, an outright rejection of Italy's budget plan by Brussels would only add fuel to the populist fire. An Ipsos poll for the Italian newspaper Corriere della Sera on Sunday showed the 2019 budget plan is viewed positively by 59 percent of Italians. So it's not surprising that the EU Budget Commissioner Pierre Moscovici said on Friday that the EU won't interfere in Italian economic policies. Another classic EU political stalemate.
With all this in mind, the spread of Italian debt yields over the German benchmark — now an unlikely star of Italian newspaper front pages — is going to be the most efficient brake on the country's fiscal overreach. Deputy Prime Minister Matteo Salvini, leader of the right-wing League, has hinted that only a breach of 400 basis points over Germany would lead to a rethink. It reached as high as 326 basis points on Thursday. A return to those levels will have more resonance than any stern words from the EU commission.
This column does not necessarily reflect the opinion of the editorial board or Bloomberg LP and its owners.
Marcus Ashworth is a Bloomberg Opinion columnist covering European markets. He spent three decades in the banking industry, most recently as chief markets strategist at Haitong Securities in London.