It's Gut Check Time for the Stock Market's Bulls
(Bloomberg Opinion) -- It seems all anyone in the equities market wants to talk about these days is the carnage underway in the so-called FAANG stocks: Facebook Inc., Apple Inc., Amazon.com Inc., Netflix Inc. and Google parent Alphabet Inc. And it has been ugly. A New York Stock Exchange index tracking these and a few other technology-related stocks posted its worst three-day performance since 2015 by falling as much as 9.75 percent – dragging global markets down as well.

But focusing on a handful of high-profile stocks obscures what is turning out to be a boffo earnings season.
Members of the benchmark S&P 500 Index are on track to report second-quarter earnings gains of 25 percent on average, the best performance since the final three months of 2010, according to Bloomberg Intelligence. Excluding the biggest tech stocks, BI notes that the gains are even more impressive, up 37 percent.  Overall, a record 85 percent of U.S. companies have beat expectations with earnings season only halfway over, according to Bianco Research, citing Factset data. What may be more surprising is that a review of 159 earnings conference call transcripts through July 25 found low levels of concern over tariffs, according to Bianco. Only 19 of them, or about 12 percent, saw "at least" a modest impact from tariffs; 17 worried about the future impact of tariffs. On about 83 percent of the calls, company executives either saw no reason to mention tariffs or mentioned them and concluded they are having no effect on earnings.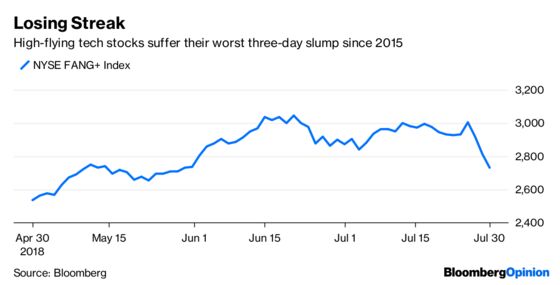 All this means that if you liked stocks heading into this earnings season, you must love them now. That is, if you take company executives at their word that the fallout from a budding trade war may be minimal. Here's the kicker: Stock analysts are getting more confident about 2019. They've boosted their year-over-year earnings growth forecasts to 10.3 percent, their most optimistic forecast since before first-quarter results, according to Bloomberg News' Andrew Cinko.

DEFICITS BETTER NOT MATTER
One of the oldest debates in bond markets is whether federal budgets deficits matter or not in terms of borrowing. Let's hope they don't. The Treasury Department said Monday that it plans to borrow more this quarter than previously estimated, as tax cuts and spending hikes inflate the nation's budget deficit. The new projections put total net borrowing at $769 billion for the second half of 2018 and $1.33 trillion for the whole year, according to Bloomberg News' Saleha Mohshin. That's a lot of debt investors must buy at a time when the Federal Reserve is pulling back from its purchases. It's no surprise that Treasury 10-year note yields have edged back up recently, including on Monday, to flirting with the psychologically important 3 percent level, after hovering around the 2.85 percent level for most of the month. Yields on Treasuries of all maturities reached an average of about 2.84 percent last week, the highest since May. Even if yields stay about the same, the U.S. will be paying a lot more in interest due to the sheer amount of debt outstanding. The U.S. has already paid out $415.1 billion in interest expense through the first nine months of fiscal 1018 ending in September, up from $375.6 billion at the same point of fiscal 2017 and $348.5 billion in fiscal 2016.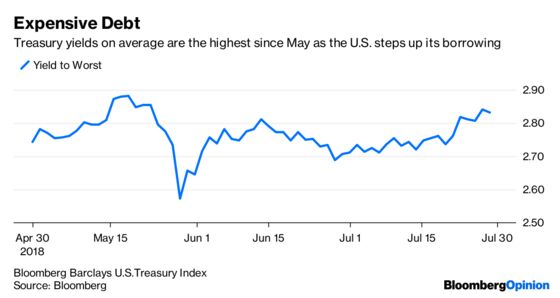 Normally a relatively sleepy currency, the Swedish krona was the talk of the foreign-exchange market on Monday. The krona was the biggest gainer against both the dollar and euro among the 31 major currencies tracked by Bloomberg. The krona is now up about 2 percent over the past month against a basket of nine other major currencies tracked by the Bloomberg Correlation-Weighted Index, making it the strongest performer among the group. All that's good for those who happened to be long the krona. It may not be so good when viewed through the lens of why the krona is strengthening. In short, the largest Nordic economy is starting to gather strength, with data Monday showing gross domestic product grew 1.0 percent in the second quarter, accelerating from a revised 0.8 percent in the first three months of 2018 and beating the 0.5 percent estimate in a Bloomberg survey. Of course, a strong economy is a good thing, but it also means that the Riksbank is likely this year to join a growing list of central banks planning to unwind a record stimulus. There are no shortage of smart investors and strategists who say that global risk assets such as equities have been artificially propped up in recent years by central bank largesse, so any reversal of that should have the opposite effect on those markets.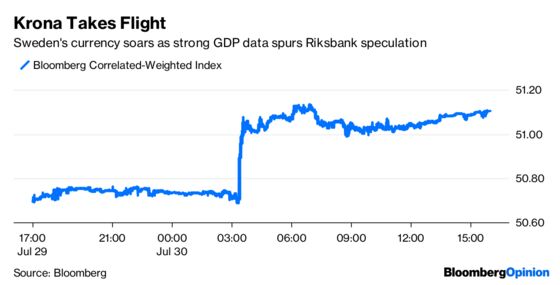 It was barely a month ago that Latin American markets looked to be in big trouble. Argentina, which was under attack by currency speculators, had to turn to the International Monetary Fund for help. Voters in Mexico were on the verge of electing a leftist candidate as President who was seen as somewhat less than business friendly. Political turmoil was also upending markets in Brazil. And the collapse in commodities such as copper and oil were wreaking havoc on the currencies of Chile and Colombia. But the market has a tendency to do the one thing that causes the greatest amount of pain, which is to say that currencies south of the U.S. border have staged an impressive rebound. The Bloomberg JPMorgan Latin American Dollar Index has risen about 5 percent this month, compared with little change in the MSCI Emerging Markets Currency Index. The turnaround is largely an example of worst-case scenarios not playing out, especially given uncertainties about the intentions of Mexico's new president. There are also signs that the talks to update the North American Free Trade Agreement are going well and may be close to wrapping up. While such a development would certainly be good for Mexico, which has seen its peso appreciate about 7.50 percent this month, the whole region is likely to benefit in some form.
The broad commodities market is staging a comeback after suffering a nasty 9.56 percent decline between late May and mid-July. Precious metals trades didn't get the message, with the Bloomberg Precious Metals Index hovering at its lowest level since December 2016. The conventional wisdom is that precious metals rise when investors are worried about the future or during times of trouble, and fall when they are more confident or the dollar rallies. In many ways that's all true, but the precious metals market may be sending a more sophisticated signal at the moment. Take silver, which has fallen in each of the past seven weeks – its longest slump since 2000. It seems that investors have fled silver as the U.S. instigated trade disputes with China and other global powers, fueling concern about economic growth and clouding demand prospects for a metal used in solar panels and appliance components, according to Bloomberg News' Susanne Barton.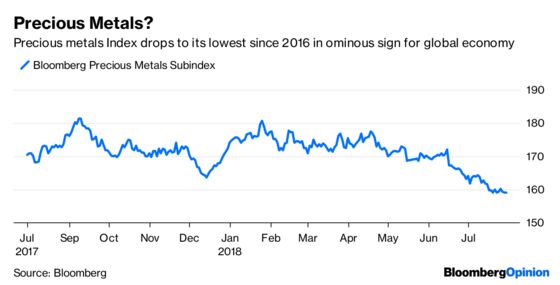 Perhaps the biggest event of the week in world financial markets takes place in a few hours when the Bank of Japan concludes a two-day meeting on monetary policy. Although the central bank isn't expected to make any changes to its massive stimulus program, it's clear that investors have been probing the BOJ's pain thresholds of late. Three times in the last week the BOJ had to step in and buy bonds to keep 10-year yields from rising above their 0.1 percent target. That's unusual because the BOJ has never had to do so more than once in a week. Nevertheless, speculation that Governor Haruhiko Kuroda could permit yields to fluctuate more around the BOJ's zero percent target or remove its current 80-trillion yen ($720 billion) bond-purchase target helped spark a selloff in the global government bond market Monday, according to Bloomberg News' John Ainger.
This column does not necessarily reflect the opinion of the editorial board or Bloomberg LP and its owners.
Robert Burgess is an editor for Bloomberg Opinion. He is the former global executive editor in charge of financial markets for Bloomberg News. As managing editor, he led the company's news coverage of credit markets during the global financial crisis.