Theresa May's Unconvincing Corbyn Imitation
(Bloomberg Opinion) -- Brexit-backing Boris Johnson wants to slash taxes on property purchases in Britain. A rival thinks they should be raised to target foreign buyers – not Jeremy Corbyn, but Prime Minister Theresa May. Neither pitch is convincing.
Johnson is wrong to think that cutting stamp duty will fix a housing market that years of cheap mortgages and subsidies have distorted to a point where few young people can afford to get on the property ladder. But even if May is right to concede that public opinion has shifted, her prescription risks looking tame next to Labour's promises.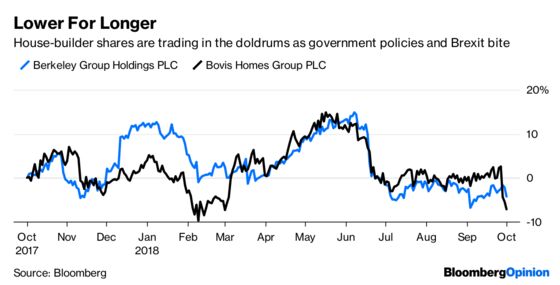 Tellingly, markets were barely ruffled by May's announcement. Homebuilder Berkeley Group Holdings Plc fell 2 percent, while rivals Persimmon Plc and Bovis Homes Group Plc fell about 1 percent. After the economic turmoil of Brexit, a surcharge which – according to the Telegraph – might amount to only 1 percent looks trivial. It would certainly be nothing like as draconian as New Zealand's recent ban on foreigners buying property.
Why go for so low a rate? While the Prime Minister is keen to give a leg-up to "hardworking British residents" over foreign buyers, the government also knows that the latter account for about half of property transactions in London. Even after the 2016 Brexit vote, the capital generates an eye-popping 5 billion pounds ($6.5 billion) in stamp duty annually.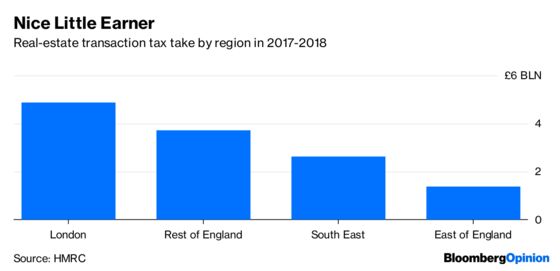 No cash-strapped politician would easily give up such a windfall. There are also signs that the market for 10-million-pound-plus properties is stabilizing, and the pound's fall since the Brexit referendum means overseas purchasers could easily absorb a modest tax increase.
There's also the rather awkward language around who exactly will be targeted by the tax. Is it foreigners, or, as May put it, "individuals who don't live in the U.K.?" The former would sweep up Russian oligarchs and Arab princes, but the latter would also capture Brits living abroad. In theory, an expat returning from Spain after Brexit would pay the same tax rate as a billionaire sheikh.
All of this will still sound unconvincing to those who want a more radical redistribution of wealth. May's proposals certainly look timid next to Labour's promises to build a million affordable homes, impose rent controls, give tenant more rights, and impose more taxes on top earners.
But her plan could equally succeed in irritating voters in her Conservative heartlands: it will make it more expensive for buyers trying move up the ladder into more affluent areas, or harder for wealthy vendors to find buyers willing to pay as high a price for their million-pound homes.
This doesn't mean that Johnson has a better grip than May on how to repair Britain's housing market. Stamp duty is still an unsophisticated, blunt cost that plenty of people would rather not bear when taking out a mortgage. But it's irresistibly easy for governments to collect, and, after a decade of house-price appreciation, putting a brake on the number of transactions is an acceptable price to pay.
Higher interest rates and the economic fallout from the impact of Brexit are likely to play a more important role in restraining house price inflation than any tax cut – whoever may be party leader.
This column does not necessarily reflect the opinion of the editorial board or Bloomberg LP and its owners.
Lionel Laurent is a Bloomberg Opinion columnist covering finance and markets. He previously worked at Reuters and Forbes.