Indonesia Is Fragile for Good Reason
(Bloomberg Opinion) -- Call it full circle. Five years after the 2013 taper tantrum, Indonesia is looking fragile again. 
This year, foreigners have been selling anything to do with the Southeast Asian nation.
The Jakarta Composite Index is down 7.4 percent, making Indonesia, along with the Philippines, one of the worst-performing emerging markets in the region. The rupiah has tumbled 3.6 against the dollar, while the country's U.S. currency bonds aren't faring much better than troubled Turkish or Argentinian notes.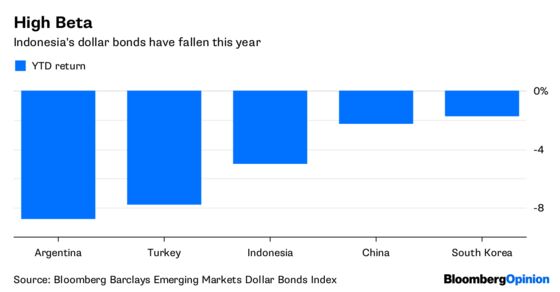 Indonesians could be forgiven for feeling vexed.
The country's now rated investment grade, and external conditions have improved. Its current account deficit has narrowed to 2 percent of GDP from 3.6 percent in 2013, while foreign reserves can now cover 7.4 months of imports versus as little as five back then.
But when the U.S. Federal Reserve is raising rates – for real this time – positioning matters more than fundamentals. And it's Indonesians' own fault the nation relies so heavily on foreign funds.
Of all the sovereign dollar bonds in Asia, Indonesia is the only country that offers deep liquidity as well as a full yield curve, with tenors ranging from one to 30 years. Many other nations have relied upon domestic markets for financing.
China came to market last year with its first sovereign dollar bond since 2004. Vietnam, upgraded earlier this month by Fitch Ratings Ltd. to BB from BB- after GDP growth accelerated to 6.8 percent in 2017 from 6.2 percent in 2016, hasn't issued any U.S. currency notes since 2014.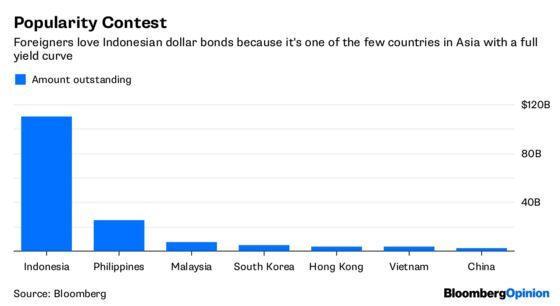 Indonesia has raised more than $63 billion from dollar debentures over the past three years. (The only other country as active is the Philippines.)
As a result of that deluge, Indonesia is firmly in the cross hairs of mutual funds and ETFs that track emerging markets. The $11.4 billion iShares JPMorgan USD Emerging Markets Bond ETF, down 5.6 percent since January, counts Indonesia as its second-largest geographic allocation, after Mexico.
Increasingly, developing nations' debt no longer looks attractive. With Libor rising, putting funds into U.S. money markets seems a smarter move, particularly considering emerging-market dollar bonds only offer a 2.6-percentage-point spread over Treasuries.
Bank Indonesia Governor Agus Martowardojo will chair his final policy meeting Thursday, with economists expecting a rate rise. Indonesia posted its biggest trade deficit in four years on Tuesday, and the country's current account deficit is starting to widen again.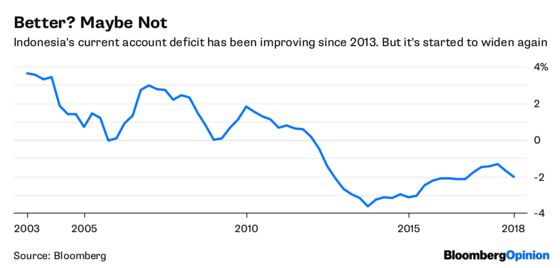 With U.S. money going back home, no sensible emerging markets central banker wants to be perceived as behind the curve. But a rate increase would only be an attempt to bolster investor confidence rather than signaling the start of a tightening cycle.
Indonesia isn't any more independent now from the West than it was five years ago. Despite its best endeavors, it still belongs to the Fragile Five club.