Cheap Tickets Are Killing India's Booming Air Market
(Bloomberg Opinion) -- Go to any Indian airport, and it'll appear that nearly all of the country's billion-plus people have decided to fly. Yet talk to shareholders of India's largest aviation businesses, and they'll tell you how miserable they are.
Oxygen masks have been down since last month's 97 percent drop in quarterly profit for InterGlobe Aviation Ltd., which operates IndiGo, the budget carrier with almost two-fifths of India's domestic market.
Rising fuel costs make for an even shorter runway at Jet Airways India Ltd., which is burdened with $1.2 billion in net debt in contrast to IndiGo's $1.6 billion of net cash. India's second-largest carrier was forced to postpone its fiscal first-quarter results on Thursday after the audit committee, comprising three independent directors and one representative of equity partner Etihad Airways PJSC, refused to approve the accounts. Following a one-week-old Economic Times report about a cash crunch, denied by the company as "inaccurate" and "malicious," Jet has now appointed a committee to improve public perception of the airline.
Maybe the carrier should also consider a committee to improve investor sentiment. Including the near 7 percent drop on Friday morning in Mumbai, Jet shares have lost two-thirds of their value so far this year. Those of budget carrier SpiceJet Ltd. have dropped by almost 40 percent.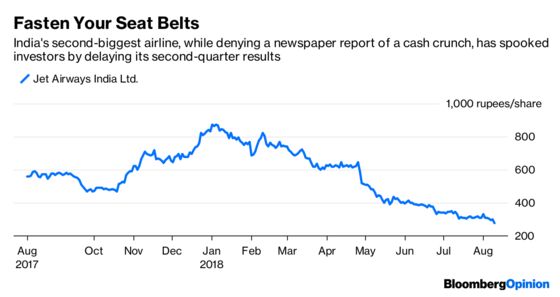 Blame the woes on everything from lax hedging policies to India's exorbitant fuel taxes and overambitious fleet expansion. None of those, however, is a satisfactory explanation for why a domestic aviation market that has in just three years overtaken Australia, Japan, Russia and Brazil should be so fragile. Aside from whatever it is that's bothering Jet's audit committee, the biggest problem plaguing the industry is pricing. 
It's unclear as to why pricing should behave as if India's aviation industry is saddled with huge overcapacity. Unable to pay interest and wages, Kingfisher Airlines Ltd. went belly up in late 2012. In almost every month since then, revenue passenger kilometers (a measure of demand) have grown faster than available seat kilometers (a unit of supply), according to the International Air Transport Association. Even in June, when the industry was crashing, domestic air travel grew by 17.6 percent. Not only was it the fastest growth of any major market including China, it was nearly 2 percentage points quicker than India's own demand expansion in the same month last year.  
Yet desperate carriers are pampering fliers with promotions they can ill-afford. Jet, for instance, is currently offering a 30 percent discount on base fares to international destinations. This is when its cost of flying one passenger-kilometer, excluding fuel, was 3.17 rupees last fiscal year, according to SBICAP Securities Ltd., compared with 2.53 rupees for SpiceJet and 2.04 rupees for IndiGo. Revenue per available seat kilometer has exceeded all-in costs in just three of the past 14 quarters.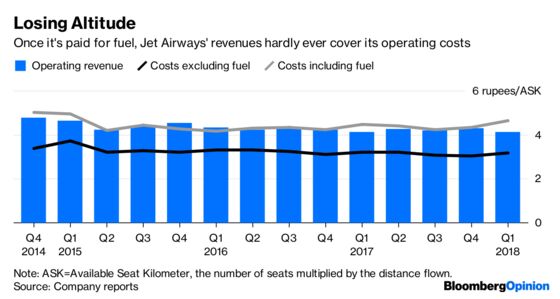 The obvious point is that it may be pointless to run a full-service carrier like Jet if it can't even hold on to a better premium over budget airlines like SpiceJet and Indigo. The other message is that operational efficiencies alone aren't enough. IndiGo – whose reputation for ruthless cost management makes it Asia's biggest budget airline by market capitalization – is also getting thwacked by the Indian consumer's legendary unwillingness to pay.
From transport to communication and investment banking, the motto of every Indian business seems to be: "Let's get volumes today, pricing power will come tomorrow." For tycoon Mukesh Ambani, it means feeding his countrymen 3.4 billion hours of video content every month, and hoping that his telecom service's less than $2-a-month revenue per user will turn into a bigger number tomorrow.
Ikea, which opened its first Indian stores this week after a 12-year wait, may be able to win over the price-sensitive consumer with extreme localization of its product offerings. However, it's not a game everyone can play. Since Apple Inc. can't halve handset prices in India without jeopardizing its global franchise, it may have to stay content with a 1 percent share of phone sales in the world's fastest-growing telecom market.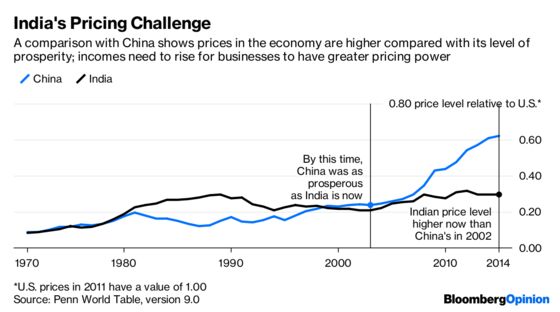 Ultimately, the problem boils down to this: In 1970, the average Chinese and the average Indian were equally poor. Since then, both countries have narrowed the gap with the Americans, but the Chinese have been more successful.
India's per capita income gap with the U.S. in 2014 was the same as China's was in 2002. But while back then aggregate Chinese prices were 24 percent of U.S. levels, the figure for India is already 29 percent. Unless New Delhi can create opportunities for faster catch-up in incomes, further economy-wide price increases will only erode competitiveness. 
This is why Indians won't pay a premium of even 1 rupee per kilometer for hot meals and cold towels. After all, they're paying 2 rupees for a pilot, aren't they?   
This column does not necessarily reflect the opinion of the editorial board or Bloomberg LP and its owners.
Andy Mukherjee is a Bloomberg Opinion columnist covering industrial companies and financial services. He previously was a columnist for Reuters Breakingviews. He has also worked for the Straits Times, ET NOW and Bloomberg News.
View
Opinions
From Business And Policy Experts On BloombergQuint