Why Silicon Valley Pretends It Doesn't Make Money
(Bloomberg Opinion) -- I am constantly amused that some of the world's richest companies pretend they aren't trying to make money.
The Wall Street Journal had a smart article on Wednesday about why Apple Inc. is selling the two more expensive of its three new iPhone models five weeks ahead of the lower-priced version. The company did the reverse last year, putting its $700-and-up iPhone 8 models on sale six weeks before the iPhone X with its $1,000 starting price. 
This year's strategy gives Apple more than a month to sell the more expensive iPhone models to the most eager buyers, without lower-priced competition from itself. The staggered approach also give Apple more visibility into sales trends and simplifies logistics, the Journal reported.
Companies in other industries would be happy to crow about such sound strategies. Not Apple. The company told the Journal that it releases products when they're ready. End of discussion, OK? It just so happens that iPhones are ready each and every September, by magic. 
I've written before that Apple doesn't get enough credit for its brilliant product pricing and segmentation. Three years ago, Apple effectively sold two new iPhone editions each year, at a starting price of $650 in the U.S. Apple now has made it normal to pay $1,000 or more for a phone, and it currently sells more than 10 different old and new models at prices ranging from modest to supersonic.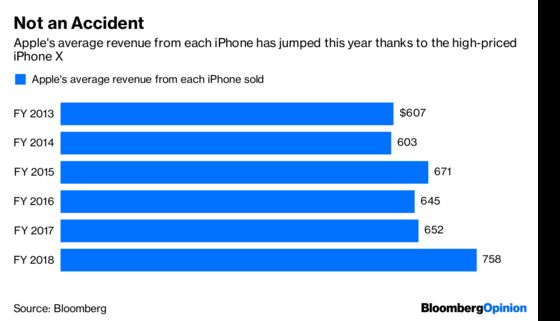 Sure, iPhones get more sophisticated and powerful over time, but most technology products tend to get better and cheaper over time. Not the iPhone. The climbing average sale prices for iPhones are the biggest reason Apple's revenue has continued to climb this year.
Apple deserves credit for having so much sway that people will pay up for a product that has become a commodity in most of the world. The company doesn't want any credit, though. Apple never, ever talks about the increasing sale prices resulting from a deliberate strategy — even to investors and other financial-minded audiences. It's crazy. Apple didn't simply trip over a barrel of cash to become the most profitable company in the U.S.
Meanwhile, retailers are talking their investors through the tactics they're employing to spur more shoppers to pay full price for Coach handbags and Ralph Lauren sweaters, rather than hold out until those items are on sale. Other companies, in short, talk openly about how they act like for-profit businesses. 
Apple's gross profit margins have remained very consistent, suggesting the company is building its business around a certain level of profit — no matter the cost of the components and ever-more-advanced technologies that go into its products. When Apple is asked about its power and wealth, Tim Cook is fond of saying that he still views Apple as a small company. This is a ridiculous thing to say about a titan that sells products to hundreds of millions of people, generates an average of $140,000 in cash every minute, and is the most richly valued public company on the planet.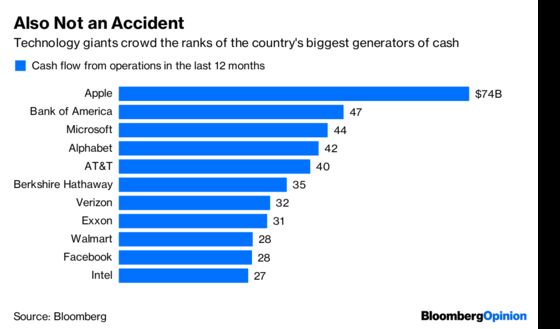 It's somehow unseemly for technology companies to confess they are trying to make money. Amazon.com Inc. says its only mission is to obsess over the needs of shoppers. It's also one of the most ruthless and savvy corporations in service of itself. The chairman of Google's parent company recently suggested that China's internet users might be better off even with a censored version of the company's web search engine. It's hard to believe that Google is motivated by China's information needs rather than the possible financial windfall from selling digital advertising, artificial intelligence and other technologies in the country.
All of this denial of profit motives is good public relations, of course. Rich, profit-motivated companies don't want to appear to be rich and profit-motivated. It's not cool.
Instead it's cool for companies to shout to the world's citizens about the innovative products they bring into the world. And that's what many of the tech giants are delivering. Businesses should have core values beyond making money. But behind those cool products and services are often smart, spreadsheet-driven business strategies. That's reality, too. And it should be OK to admit it. 
This column does not necessarily reflect the opinion of the editorial board or Bloomberg LP and its owners.
Shira Ovide is a Bloomberg Opinion columnist covering technology. She previously was a reporter for the Wall Street Journal.