Hyundai Earnings Shock Shows a Need for Direction
(Bloomberg Opinion) -- We knew the global auto industry was struggling, but is it this bad?
Hyundai Motor Co. announced Thursday an almost 67 percent drop in net income, saying one-time recall costs to address quality issues were chiefly to blame. There's a deeper problem, though.
Nobody was prepared for the result, and investors fled, pushing the stock down as much as 10.7 percent. Fair enough, sales are slow in the U.S. and China markets. But they're not that dismal.
A glance through earlier earnings reports shows that Hyundai hasn't been able to manage those key markets for a while now. They drove the decline in first-half sales, alongside weakness in the South Korean home market and in emerging Europe. A 30 percent drop in U.S. revenue was the steepest for any region.
In September, Hyundai's wholesale unit sales in the U.S. and Canada fell 18 percent year-on-year and were down 7 percent in the 12 months through September. The broader U.S. vehicle market, now dominated by SUVs, grew 0.3 percent in the year through September.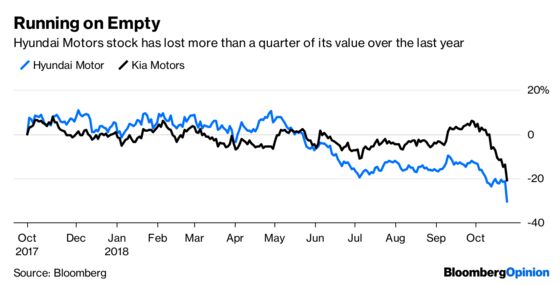 Recall costs just exacerbated the pain. They amounted to about 500 billion won ($440 million) in the third quarter. Earlier this month, an American nonprofit group said the company should check 2.9 million older vehicles sold by Hyundai and its affiliate Kia Motors Corp. in the U.S. following widespread reports of fires. Earlier this month, Hyundai recalled more than 28,000 vehicles in Russia.
Hyundai says it will devote "all-out efforts" to improving sales in China. That push may be a little late now, and might have to be more nuanced: Just churning out SUVs and older models with facelifts won't cut it. Competition there is now a lot tougher.
Unfortunately for Hyundai the strategy, not the market, is to blame.
This column does not necessarily reflect the opinion of the editorial board or Bloomberg LP and its owners.
Anjani Trivedi is a Bloomberg Opinion columnist covering industrial companies in Asia. She previously worked for the Wall Street Journal.