HSBC Can Feast on Deutsche Bank's Pain
(Bloomberg Opinion) -- Say "equities trading," and HSBC Holdings Plc won't be the first bank to come to mind. Or the second or third. It doesn't even reach the top 10. Yet its recent efforts to bulk up in this area make a lot of sense. Never mind that investment banks globally are struggling in equities as automation and regulation eat into wafer-thin margins.
The London-based institution is on a hiring spree for the business in Asia-Pacific, recruiting executives from rivals including Deutsche Bank AG. Germany's largest lender said this week it's planning to cut at least 7,000 positions worldwide, with equities bearing the brunt. HSBC hired Deutsche's Isabella Kwok as a managing director for Asian stock sales with a China focus, as well as Edman Wong from Citigroup Inc. and CLSA Ltd.'s Vivek Gandhi, Bloomberg's Cathy Chan reported Friday.
At first glance, the buildup may seem odd for a bank whose edge is in fixed-income and currencies. That division brought in more than four times the meager $1.25 billion of net operating income produced by equities trading. The business contributed just 2.4 percent of HSBC's net income, versus 30 percent for Goldman Sachs Group Inc.
Yet the recent hires are low-hanging fruit for HSBC, whose much-touted pivot to Asia is showing signs of success. Tellingly, Hossein Zaimi, named by HSBC to run its global equities business last year, is based in Hong Kong and not London, the location of his predecessor.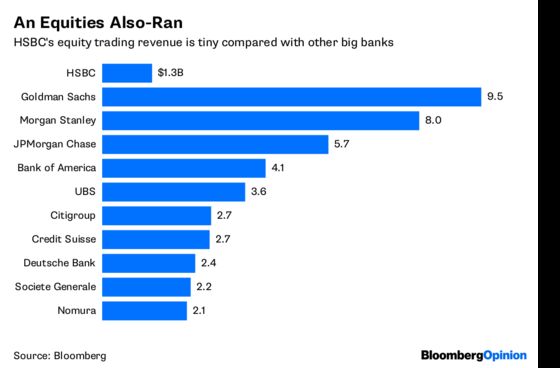 Two of the bank's five biggest and fastest-growing markets — Hong Kong and China — are famous for their stock-obsessed denizens. As an arm of the former British colony's largest bank, HSBC's brokerage unit is benefiting from huge flows via the Connect trading pipes that link the city with the Shenzhen and Shanghai exchanges. Already there's some impact: HSBC's equities revenue in the first quarter surged 18 percent while FICC dropped 16 percent.
HSBC also became the first foreign financial institution to control a Chinese investment banking business last year thanks to a trade agreement between Hong Kong and Beijing. With Connect, the initial public offerings HSBC Qianhai Securities Ltd. underwrites in mainland China can be easily sold across the border once they start trading. To this, add a hot IPO season in Hong Kong, and MSCI Inc.'s inclusion of more A shares in its emerging markets index, and you've got a case for Zaimi to demand resources for Greater China.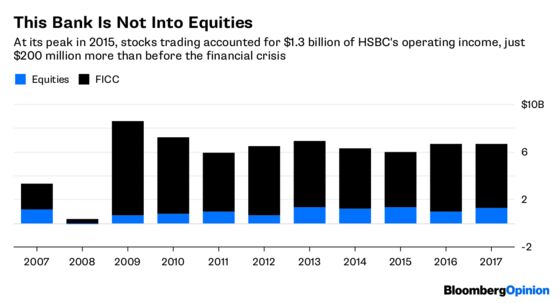 Execution fees will continue to fall: More investment capital is ending up with passive funds, and asset managers' fees are facing a squeeze from Europe's MiFID II regulations. Yet unless rising global interest rates or troubles in emerging markets abruptly end the global stocks boom, it's a good time for banks to scale up. Fixed-income trading was in the doghouse in the first quarter. But from Citigroup to Goldman Sachs, equity trading desks are benefiting from the return of volatility.
On the talent side, HSBC may find more easy pickings as Deutsche Bank implodes. While the lender is unlikely to become synonymous with equities, as long as the flows keep coming, Hong Kong and China's (if no longer the world's) local bank can certainly aspire to make it to the top 10.