How to Lose $86 Million in Just Three Weeks
(Bloomberg Opinion) -- How do you mislay 75 million euros ($86 million) of operating profit in just three weeks? That's the question Ceconomy AG investors are asking themselves on Tuesday after the German electronics retailer issued its second profit warning in rapid succession.
Bizarrely, the company hasn't provided an explanation for the further 16 percent downgrade to its operating profit forecast for the financial year that ended Sept. 30. Hence investors have drawn their own conclusions, and they're not good. The shares plunged as much as 22 percent, bringing the decline this year to an eye-watering 63 percent. Only the short-sellers who've taken an interest in the business — carved out of retail giant Metro AG in 2017 — will be pleased about that.
Like other retailers, the owner of the Saturn and Media Markt chains has had a disappointing summer as people found better things to do with their time than hang out in a big electronics store. But that doesn't explain why that 75 million euros of anticipated operating profit evaporated in the 21 days that have followed the previous profit warning on Sept. 18.
Absent much of an explanation by the company, one can at least hazard an educated guess at what happened: The rebates it expected to book from suppliers for selling lots of their products haven't materialized — because Ceconomy didn't sell enough of them. Supplier discounts and rebates are a common way for retailers to pad their margins. But forecasting and accounting for this stuff is tricky. It's what got the British grocer Tesco Plc into big trouble back in 2014.
At the end of June, Ceconomy was owed about 1.1 billion euros from its suppliers, a sum equivalent to about 65 percent of the company's market capitalization. The accounting is a bit complicated, so here's the company's explanation of how it all works.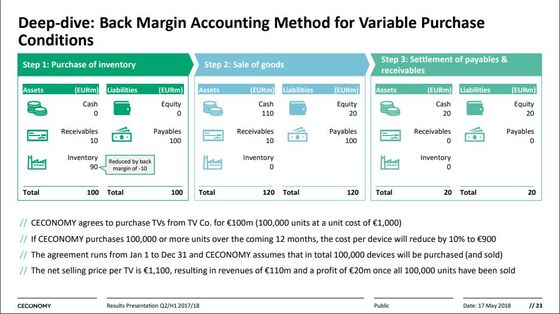 Being owed this much was bound to provoke questions. In most businesses, suppliers are the people you pay — not people who pay you. In March, analysts at Morgan Stanley said Ceconomy's supplier rebates created an "inherent lack of [earnings] visibility" in what's already a pretty low-margin business.
Ceconomy's annual report said similar in a more long-winded way, acknowledging that "accruals relating to supplier compensation tied to certain calendar year targets are based on projections." As a result, the auditors noted that there was "a risk that the level of compensation realized from suppliers is estimated inaccurately so that the amount recognized for receivables from suppliers is too high."
However, management assured investors in May that everything was under control. The company said only 5 percent of its overall gross margin was dependent on hitting the volume targets agreed with suppliers. Again, here's the relevant slide.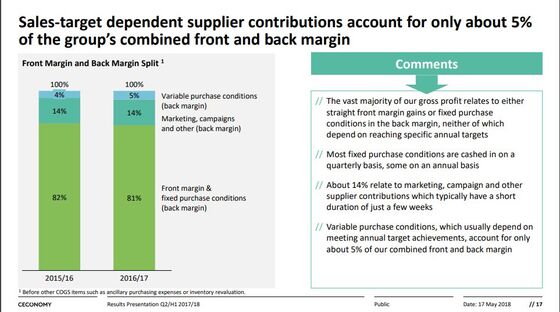 Chief Financial Officer Mark Frese concluded his May presentation by saying that "We have a good grip on our business and sufficient visibility when it comes to our margin targets." It looks like he was wrong about that.
This column does not necessarily reflect the opinion of the editorial board or Bloomberg LP and its owners.
Chris Bryant is a Bloomberg Opinion columnist covering industrial companies. He previously worked for the Financial Times.