Honeywell Gets a Chance to Own the Spotlight
(Bloomberg Opinion) -- Honeywell International Inc. is making the most of its moment in the spotlight.
Earnings expectations were high, but the industrial conglomerate still managed to impress on Friday. Third-quarter earnings per share bested analysts' estimates, as did a stellar 7 percent increase in sales excluding the impact of currency swings and M&A. Honeywell usually has to share an earnings day with General Electric Co., which has tended to suck up all the oxygen, especially lately. But GE abdicated its traditional spot this quarter and will now report on Oct. 30 after a delay meant to give new CEO Larry Culp more time to assess the business.

Honeywell's center-stage showcase went smoother than earnings reports at some other industrial companies: distributors Fastenal Co. and W.W. Grainger Inc. plunged earlier this month after reporting third-quarter gross margin disappointments and some slight cracks in sales momentum, fueling fears of an earnings peak. But while demand may be slowing at the edges, particularly in the automotive and China markets, it's not falling off a cliff. Honeywell's aerospace, automation and petrochemical divisions are longer-cycle businesses that are still in the earlier stages of growth, and that's what you're seeing in the numbers today.
Honeywell CEO Darius Adamczyk has also earned investors' trust by under-promising and then over-delivering. Recall that the company's initial 2018 outlook called for organic revenue growth of just 2 percent to 4 percent, a target range that analysts deemed even at the time to be conservative. It now sees organic sales growth of about 6 percent for the full year.
There was some concern when Adamczyk took the top job that his focus on accelerating Honeywell's historically weak sales growth would come at the cost of the steady margin improvements that investors had grown to expect from his predecessor Dave Cote. Those worries turned out to be unfounded. Honeywell's segment margin increased 70 basis points in the third quarter, above the company's guidance for a 30 basis point to 50 basis point gain.
All of Honeywell's primary divisions saw profitability improvements with the exception of its performance materials and technologies unit, where a margin contraction was expected because of the timing of catalyst shipments. The biggest threat to ongoing margin expansion may be side-effects of the trade war with China.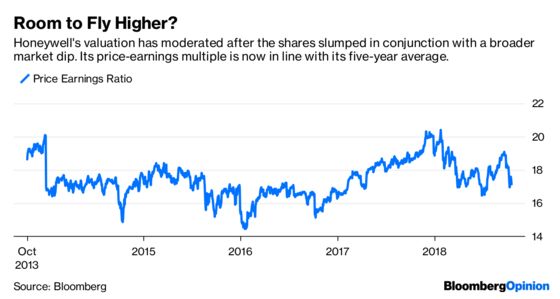 One other data point I want to call out is the 10 percent organic sales growth at Honeywell's aerospace division. That's an acceleration from the already impressive 8 percent gain in the second quarter. It's safe to say Honeywell made the right call by not taking activist investor Dan Loeb's suggestion that it spin off its aerospace unit. Instead, the company is separating out its Garrett Motion Inc. turbochargers business and Resideo Technologies Inc. thermostat and home security-system division. Garrett became independent on Oct. 1, while the Resideo spinoff is expected to be completed on Oct. 29.
The two divestitures will dilute 2018 earnings by 27 cents and leave behind $340 million in stranded costs that the company expects to fully eliminate by the end of 2019, Honeywell said Friday. The company is partially compensating for that earnings hole with an improved outlook for its remaining businesses, but the dilution has some analysts calling for growth-boosting M&A to fill the gap. Adamczyk definitely needs to do something to rebuild Honeywell's earnings power, but I'm increasingly souring on the idea that he needs a big deal.
Large transactions tend to be overrated and Adamczyk has demonstrated a penchant for smart takeovers that target a technology niche, such as the 425 million-euro ($490 million) purchase of warehouse-automation company Transnorm he announced earlier this month. More deals like that could keep Honeywell's momentum strong for years to come.   
This column does not necessarily reflect the opinion of the editorial board or Bloomberg LP and its owners.
Brooke Sutherland is a Bloomberg Opinion columnist covering deals and industrial companies. She previously wrote an M&A column for Bloomberg News.