How Leopard Print Is Hot, and Not, in Retail
(Bloomberg Opinion) -- Marks and Spencer Group Plc recently unveiled a set of must-have items chosen by Holly Willoughby, British TV personality and fashion icon. She's a good choice to help the nation's biggest clothing retailer reconnect with its core female shopper — or as Chief Executive Officer Steve Rowe calls her, "Mrs. M&S." 
A big feature in her picks is animal print. It's the most definitive trend to hit mid-market fashion for years, something akin to water in the desert for a beleaguered retailer. With consumers increasingly spending on experiences, women need a reason to shop, and a flash of feline pattern seems to be it. Did M&S nail it?
Yes and no. Some of Willoughby's pieces sold out in hours. That the chain, often seen as a fashion has-been, was able to achieve this kind of frenzy is quite remarkable.
What is less fortunate is that it hadn't bought enough stock. So something still isn't right at M&S. It is going to need to do more if it's going to reconnect with investors, too.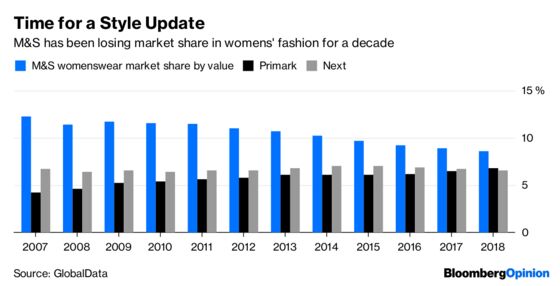 To see what the problem is, take a look at my autumn must-haves from the retailer. My picks illustrate the strides the chain has quietly made in clothing, and underline just how much further it needs to go stem the bleeding in market share. 
First up, there's an animal print tea dress, available for 59 pounds ($77). This is right on trend, and good value for money, in line with Rowe's goal of cutting prices.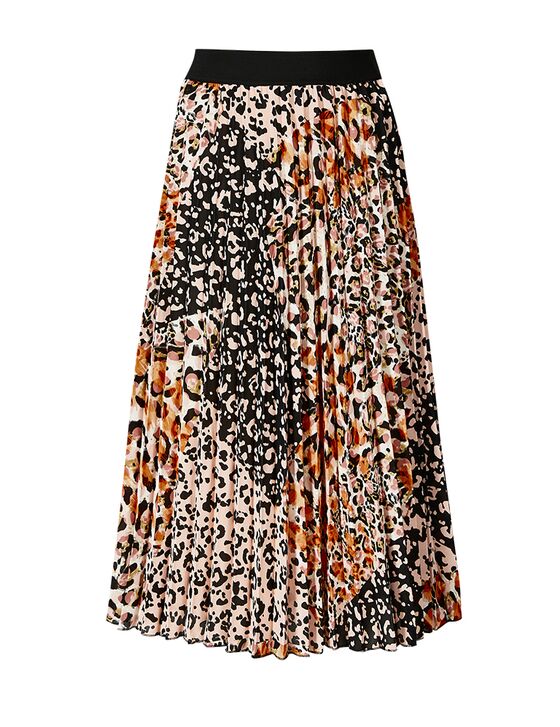 These were all big sellers. But they're also missed opportunities.
The tea dress is only available online. This is deliberate. M&S is trying to expand its digital range, part of its aim of lifting internet clothing and home furnishing from about 18 percent of sales at present to a third by 2022. It is also a way to attract shoppers who might not naturally go into M&S's high street stores — as is the company's updated, more-engaging website design.
But with such a winning item, not having it in every store is an invitation for women to shop elsewhere. And since brick-and-mortar rivals such as Debenhams Plc and online-only Boohoo Group Plc are backing animal print heavily, they have plenty of opportunity to do so.
It's a similar story with the other two items.
The print dress, also a Willoughby must-have, sold out in popular sizes within five hours. Online, the skirt is only available in larger sizes.
M&S has long struggled to stock enough of its best sellers, and it seems it still hasn't solved this problem. Cracking it is an important job for Jill McDonald, who's been managing director of clothing, home and beauty for the past year. She has made selecting the right products, and having enough of them, top priorities.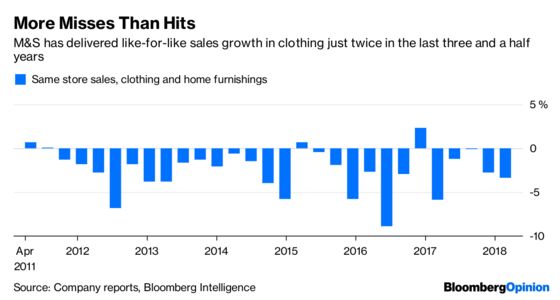 At least her response shows M&S has learned from its competition. Another animal print dress priced at 59 pounds recently arrived, offering a slightly different style and more autumnal colors. The skirt won't be back, but the same shape is in stock in a range of different colors and fabrics.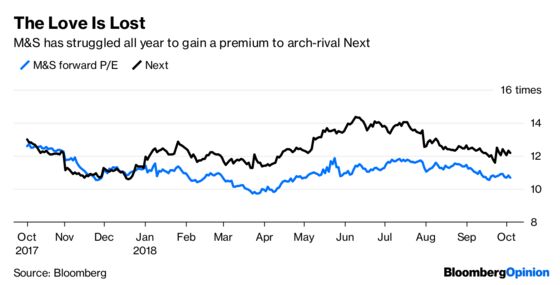 This borrows from the Inditex playbook. When this superstar of retail reorders, it rarely repeats hot items exactly. 
That should help M&S overcome the saturation pitfall — with such a large presence on the high street, it has to be mindful that its customers aren't regularly encountering other people wearing the same dress. And given that consumers remain cautious, there are no prizes for over-ordering. But now that it has found a winning formula, it should be bolder.
The first half of M&S's financial year just ended, so there's a chance that its lack of confidence hurt sales. That could add to the burdens it will have to address when it reports in November, alongside the severe pressure faced by all retailers from a recent bout of warm weather and discounting at some stores.
M&S has made some serious progress with fashion. But to make itself a sellout with investors, there's plenty more work to do.
This column does not necessarily reflect the opinion of the editorial board or Bloomberg LP and its owners.
Andrea Felsted is a Bloomberg Opinion columnist covering the consumer and retail industries. She previously worked at the Financial Times.