Hedge Funds Got What they Wanted, to Their Cost
(Bloomberg Opinion) -- This is turning out to be a year most hedge fund managers would prefer to forget, with the asset class on track for its worst performance in seven years. And if it fails to prove its mettle in what should be more favorable market conditions next year, the industry may lose any remaining credibility for its claim to deliver sufficient alpha in any market weather to justify its outsized fees.
As the most animated members of the active management crowd, hedge funds should thrive when market volatility awakens. And in October, volatility jumped in the investment world's three main asset classes.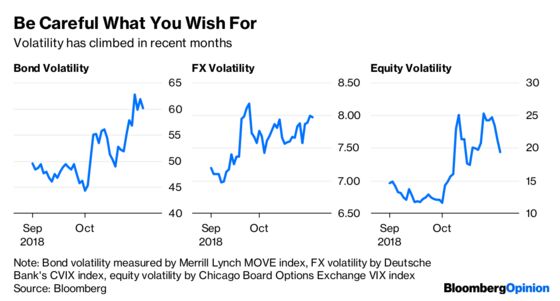 Moves such as those "create significant alpha opportunities," Luke Ellis, who, as CEO of Man Group Plc, oversees the world's biggest publicly traded hedge fund, said in February.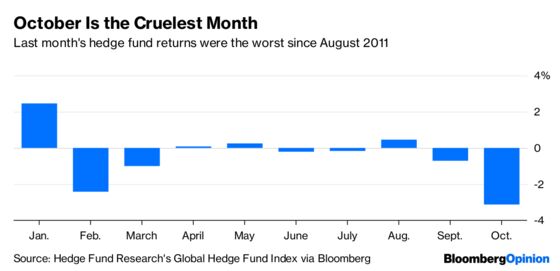 November has seen performance slip even further. So unless there's a turnaround by the end of December, hedge funds are poised to deliver their lowest returns since 2011.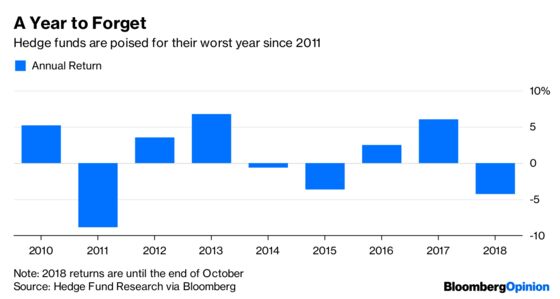 There have been some notable exceptions, which in turn point to why managers might be able to redeem themselves next year. Crispin Odey's European Inc. fund gained 7.2 percent in October, bringing its gain for the year to 48 percent, Bloomberg News reported earlier this month. It had lost about 65 percent in the past three years as the relentless rise in growth stocks overwhelmed Odey's bearish stance on stocks.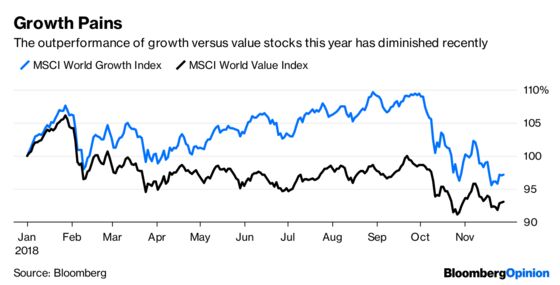 Investment advisers, including Morgan Stanley, are championing the wisdom of rotating into value stocks, which have underperformed their growth peers for several years. If they're correct — and the recent market moves suggest their timing might be good — then the scope for stock pickers to shine by identifying undervalued investment candidates and shunning overvalued stocks should improve.
For the global macro crowd, which has suffered as central bank interventions have distorted price signals, 2019 should see a slightly less artificial backdrop. The Federal Reserve is well on its way to monetary policy normalization, shrinking its balance sheet and raising borrowing costs. The European Central Bank remains on track to halt its bond-buying program in December, with officials still hinting at an interest-rate increase in the second half of next year.
Moreover, with investment returns diminishing across the board, the bar is lowered for hedge funds to outperform. Pascal Blanque, chief investment officer of Amundi SA, Europe's biggest fund manager with 1.5 trillion euros ($1.7 trillion of assets), reckons 2018 is "the first year of a new regime of lower returns," with every asset class either flat or negative.
For next year, he reckons average returns will be down to about 4.5 percent, based on a portfolio split 50/50 between bonds earning 2 percent and stocks delivering 7 percent — an environment he expects to favor active managers.
Hedge funds have had to adjust to straitened circumstances by cutting their fees in recent years. But unless they can deliver once again the out-performance that their collective reputation as alpha gatherers was based on, the tide of money flowing out of the industry will only continue.
This column does not necessarily reflect the opinion of the editorial board or Bloomberg LP and its owners.
Mark Gilbert is a Bloomberg Opinion columnist covering asset management. He previously was the London bureau chief for Bloomberg News. He is also the author of "Complicit: How Greed and Collusion Made the Credit Crisis Unstoppable."