Hedge Funds Appear Headed Back on Defense
(Bloomberg Opinion) -- Hedge funds are sending signals that they are getting cold feet about the economy.
In the third quarter, they showed less love to big-name technology and industrial stocks and more affection to consumer staple and utility stocks, two sectors that investors usually lean on in hard times for the economy or markets.
RBC Capital Markets, which put out a report on hedge funds' recent moves late last week, found that of the 12 stocks that those funds loaded up on the most in the third quarter, four were in consumer staples. That was the most of any one sector. Among what RBC calls submarine stocks — shares of companies that hedge funds were selling the most of — were four companies in technology and three industrials.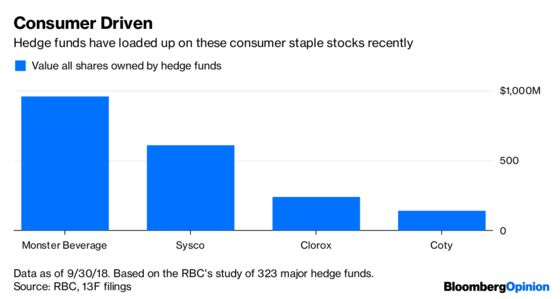 "It reflects the fact that these investors believe we are late cycle," says Lori Calvasina, the head U.S. equity strategist at RBC and lead author of the report. "They are putting their money where their mouth is."
The report is based on hedge funds' filings of their holdings at the end of the third quarter, which were due last week, so outlooks may have changed in the past month and a half. But Calvasina said the moves match up with an opinion survey RBC did at the same time that found more than half of hedge fund managers think the economy will enter a recession in the next two years.
Among the stocks that RBC found hedge funds were the biggest buyers of were consumer products company Clorox Co., beauty products company Coty Inc., food distributor Sysco Corp. and drink maker Monster Beverage Corp. Among the stocks that hedge funds sold in the quarter were hotel company Marriott International Inc. and aerospace and defense contractors General Dynamics Corp. and Northrop Grumman Corp, though selling the two contractors could have been a bet on the election as well. A Democratic-controlled House of Representatives may be less inclined to approve increases to defense spending. Another stock hedge funds were rushing to ditch was Facebook Inc.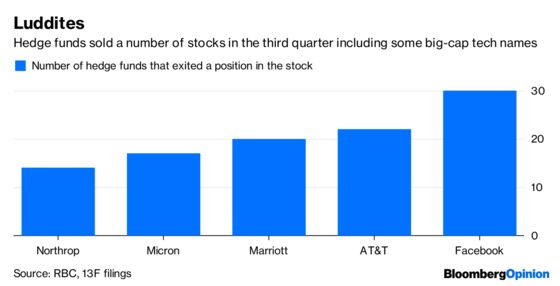 Just because hedge fund managers may be positioning for a slowdown doesn't make one inevitable. Last week, I wrote that hedge fund managers have become the market's modern-day Chicken Littles, warning about falling markets that never seem to materialize. Hedge funds tend to do better, though not great, when markets are headed south. What's more, it's been a while since hedge funds were truly thought of as the Wall Street's smart money. Over the past decade, investors would have done much better putting their money in the "dumb" S&P 500 Index than following the moves of hedge funds.
It might be unwise, however, to entirely discount hedge fund skepticism, which has been growing for a while. Earlier this year, many of the funds were loading up on health care, another defensive sector, which at the time seemed premature as a call on the economy. But there is growing evidence that the economy may be, if not slowing, entering its final phase of growth at least.
The economy still has its strengths, namely an employment market that continues to impress. But interest rates are rising. The boost from the tax cuts seems to be fading. The housing market has been weakening. China's growth is flagging. The trade war is dragging on. The hedge fund rotation isn't at the top of the list of things that should worry other investors about the economy and direction of stocks, but it does make that list just a little bit longer.
This column does not necessarily reflect the opinion of the editorial board or Bloomberg LP and its owners.
Stephen Gandel is a Bloomberg Opinion columnist covering banking and equity markets. He was previously a deputy digital editor for Fortune and an economics blogger at Time. He has also covered finance and the housing market.