Trump Spurs Defense Firms to Go on Offense
(Bloomberg Opinion) -- Attention M&A watchers: The flood gates for defense-related mergers are officially open.
Harris Corp. announced a plan on Sunday to merge with L3 Technologies Inc. in an all-stock deal that values the latter at more than $19 billion, including debt. The transaction boosts total announced deal volume for U.S. aerospace and defense companies since President Donald Trump's 2016 election to more than $80 billion. That's nearly as much as M&A activity as happened in the sector during the entirety of President Barack Obama's eight-year tenure. While the Obama administration worried too much consolidation would crimp innovation, Harris and L3 are wagering Trump will buy their argument that scale is necessary to make the investments the administration is trying to incentivize with an expanding military budget.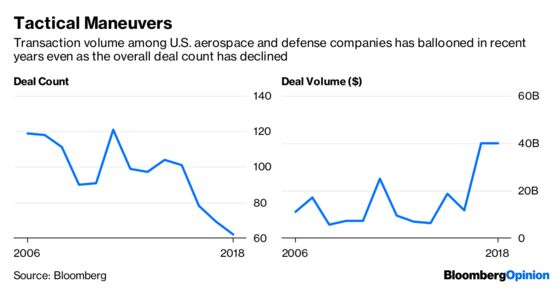 The L3-Harris merger will leave Textron Inc., the $16 billion maker of Bell helicopters, as one of the few remaining independent mid-sized defense contractors, notes Jefferies Financial Group Inc. analyst Sheila Kahyaoglu. Textron has long been a subject of breakup speculation because of the mismatch between its golf-cart and off-roading vehicle unit and its more aviation and defense-focused business divisions. The recent surge in deal activity could push it toward exploring sales of some of its assets, says Kahyaoglu. The Textron Systems division, which makes weapons, training tools and unmanned aerial vehicles, is one that seems likely to draw interest.
Potential buyers in the space include CACI International, which is primed to make a purchase after fellow military IT-services provider SAIC announced a $2.25 billion deal for smaller rival Engility Holdings Inc., notes Kahyaoglu. CACI came up empty-handed earlier this year after lobbing in a last-minute attempt to scuttle General Dynamics Corp.'s purchase of CSRA Inc., which was completed for about $9.7 billion in April.  
Megamergers among the top defense prime contractors are likely still taboo, but you could see those companies striking deals for smaller rivals. Already, Northrop Grumman Corp. acquired missile-systems maker Orbital ATK Inc. for about $9.2 billion. That purchase led analysts to speculate about a similar deal for Orbital rival Aerojet Rocketdyne Holdings Inc., which now faces much stiffer competition and could struggle to meet the Pentagon's demands for increased R&D. Boeing Co., Raytheon Co. and Lockheed Martin Corp. could be interested in buying the $2.3 billion company to build out their own missile and propulsion technology amid ongoing saber rattling from North Korea and heightened geopolitical tensions and defense spending.
Going back to the L3-Harris deal, it's unusual to see an all-stock merger announced amid the kind of market turmoil we had last week. Harris is offering 1.3 of its shares for each L3 share. That equates to about $201 relative to Harris's closing price on Friday, compared with about $215 relative to its average price over the prior 30 days. But Harris and L3's businesses are complementary, with their focus on sensors and communications equipment, and their stocks have tended to follow a similar trajectory over the last year. So L3 investors may be content to hold Harris paper instead, particularly with the prospect of a much stronger combined company.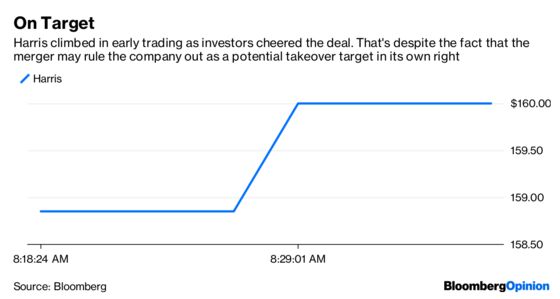 The companies likely also didn't have much choice. L3 structured its acquisitions in tax beneficial ways that now give it a low basis that would have triggered a big bill in the event of a cash-based sale, notes Cowen & Co. analyst Gautam Khanna. Not to mention, the combined company would have been saddled with a massive debt load that would have limited its ability to pursue the type of R&D investment the deal is supposed to enable.
It's a smart transaction that should make the merged entity more competitive. And it likely won't be the last of its kind.
This column does not necessarily reflect the opinion of the editorial board or Bloomberg LP and its owners.
Brooke Sutherland is a Bloomberg Opinion columnist covering deals and industrial companies. She previously wrote an M&A column for Bloomberg News.