The Pot (Not That Kind) Is Hot at Haidilao
(Bloomberg Opinion) -- Is a Chinese hot-pot chain that also provides manicures and shoulder massages really worth almost a billion dollars?
At first glance, the answer may be yes for Haidilao International Holding Ltd., which priced its pending Hong Kong IPO at the top of the range, to raise $963 million. Unlike a wave of tech deals making their way to the city, this is a profitable company, offering must-have spicy Chinese fondue and luring foodies with unusual giveaways — those nail treatments, a cover to keep the bubbling broth from your phone, and even a noodle dance.
Look again, though: At the IPO price, Haidilao would trade at as much as 69 times last year's earnings, well above Xiabuxiabu Catering Management China Holdings Co.'s 24 times or the multiple of 19 at Yum China Holdings Inc.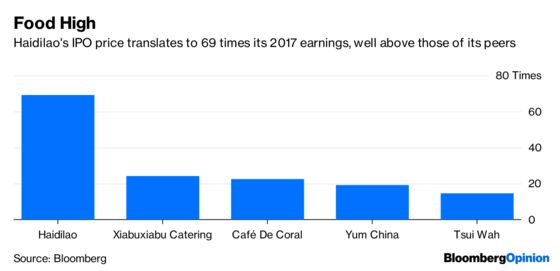 The restaurant business, as Yum China knows, is fickle. Haidilao's challenge is staying hip with those long, groaning queues, while remaining efficient — and also expanding aggressively. The chain had 112 outlets in early 2015. By June this year there were 341, and the company plans to open between 180 and 220 restaurants this year alone, both at home and in countries with large Chinese communities, like Canada and Australia.
That kind of growth brings challenges, not least with quality. Xiabuxiabu learned that lesson this month when reports of a rat in a diner's soup dragged down its shares. Haidilao's prospectus lists a few "sanitary issues," citing a Beijing press report last year that said "videos showed rats in kitchens, a dishwasher caked with oily food residue and a worker fixing a sewage blockage with a soup ladle." The problems were fixed immediately, Haidilao's filing said, then added:
We cannot assure you that our headquarters will be able to effectively manage all of our restaurants directly as we grow in business scale.
Quality control aside, another key to Haidilao's model seems to be getting people to eat fast. It's unclear how much faster they can cook pieces of meat, seafood and vegetables in boiling soup at their tables. As Ke Yan, an analyst at Singapore-based Aequitas Research writes on Smartkarma, average turnover at a single table during a day — whether in a Tier 1 or Tier 3 city — is five sittings. Can Haidilao keep that momentum going amid a hectic expansion drive, with some new outlets opening near existing ones?
(By contrast, Yan reckons table turnover at Xiabuxiabu, a cheaper hot-pot chain, is 2.8 times a day.)
None of this is to suggest that the stock is vulnerable when it starts trading Sept. 26. Haidilao's float is a tiny 8 percent of the capital. Of that, 40 percent has been taken up by cornerstone investors including Morgan Stanley and Hillhouse Capital Group, a tech-focused private-equity firm. The small float and large backstop probably will provide a cushion in the early months of trading.
Meituan Dianping (Hong Kong), a delivery super-app that completed a mouth-watering $4.2 billion IPO near the top of its price range despite the prospect of years of losses, shows that the city likes a food deal. Still, Haidilao investors should consider the risk of indigestion as the hot-pot chain expands.
This column does not necessarily reflect the opinion of the editorial board or Bloomberg LP and its owners.
Nisha Gopalan is a Bloomberg Opinion columnist covering deals and banking. She previously worked for the Wall Street Journal and Dow Jones as an editor and a reporter.