Gucci Can't Escape the Fashion Police
(Bloomberg Opinion) -- Gucci's gaudy creations are moving from cutting edge to classic. But there are signs that some investors might be starting to look elsewhere for the next big thing.
The fashion house's French parent company, Kering SA, said on Tuesday that Gucci's organic sales rose 28.1 percent year-on-year in the last three months of 2018. That's an impressive performance given that it was being compared to very strong sales growth in the fourth quarter of 2017. Gucci's operating margin also rose 5.3 percentage points in 2018 to 39.5 percent.
But the shareholder front row is a demanding crowd and Kering's shares only rose slightly in morning trade, as Gucci's sales growth was only marginally better than expected. Even so, the label's performance should reassure. While sales growth might be slightly less fabulous than before, the brand – which accounted for 63 percent of Kering's sales and 78 percent of its operating profit in 2018 – hasn't yet burned itself out.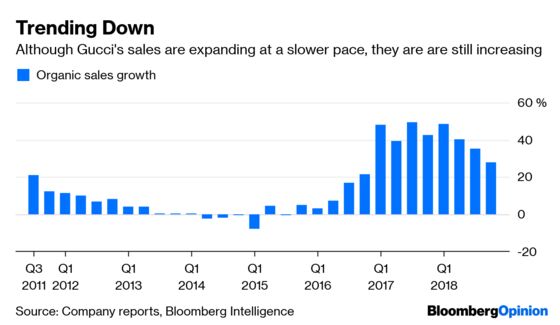 Outlandish Gucci items like its jewel-encrusted sneakers capture most of the attention of fashionistas and celebrities, but it's the wardrobe workhorses – loafers and double-G logo accessories – that are the backbone of the brand. Some of Gucci's bags are also at the more affordable end of luxury. With labels such as Burberry trying to shift their product range upmarket, that segment isn't particularly well-served right now. On-trend styles and pocket-friendly prices have proved to be a winning combination.
Gucci's management team has also been savvy in only making small changes to freshen up some of the brand's best known styles, for example its bags. Products available from one season to the next account for 70 per cent of its range. That's all backed up by a slick supply chain that ensures the best-selling items aren't out of stock for long.
Second, like LVMH SE, Kering has also offered reassurance about Chinese appetite for luxury goods. Although consumers there bought more at home than abroad, the company said sales were still increasing quickly.
Nevertheless, investors can be forgiven for not being dazzled. The risks to the Gucci success story are rising. While Chinese demand is holding up, as my colleague Shuli Ren noted last week, there's a valid question about whether this can last forever. And even if it does, there's another threat to Gucci's run of success: Fashion.
For about the past three years, the brand has set the tone with its overly embellished "maximalist" styles. Fashion being what it is, the next wave will almost certainly be a reaction against this, with a return to a more minimal aesthetic. That's good for some of Kering's other houses, such as Yves Saint Laurent and Balenciaga, which is approaching 1 billion euros of yearly sales. But it's not so hot for Gucci. It's to be seen whether creative director Alessandro Michele can pivot the brand from his trademark look to a more restrained style.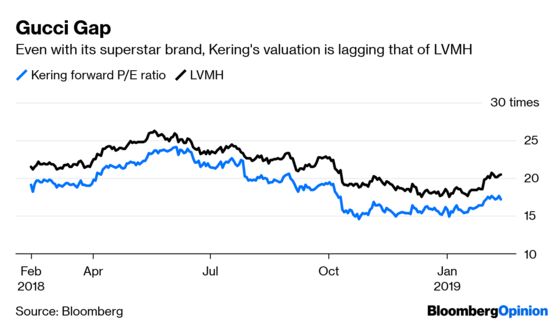 Kering's shares are up about 30 percent over the past year. They trade on about 18 times forward earnings, a discount to LVMH's 21 times. That looks fair, given the uncertainty over the future of Gucci's "granny chic." Kering needs to show that its flagship brand can navigate economic uncertainties and the fickle nature of fashion.
This column does not necessarily reflect the opinion of the editorial board or Bloomberg LP and its owners.
Andrea Felsted is a Bloomberg Opinion columnist covering the consumer and retail industries. She previously worked at the Financial Times.