Greece Turns a Corner, But Leaves Its Banks Behind
(Bloomberg Opinion) -- Greece has turned a lot of corners since the euro-zone crisis. The debt-laden, recession-scarred economy exited its third international bailout program earlier this year, and European policymakers are daring to call the country "normal" once more.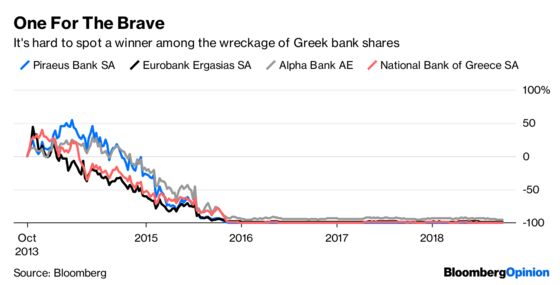 Yet Greece's banks still look un-investable. Their shares are down almost 99 percent in five years. They are stuffed with bad loans that need to be cleared off their balance sheets. That, in turn, creates additional losses that would need to be plugged with new capital. The scale of Greece's bad-loan mountain is so big, amounting to about 50 percent of total loans, that the International Monetary Fund reckons the industry needs almost 2 billion euros ($2.3 billion) in fresh capital — if you use the generous assumptions of the European Union's banking stress tests.
Now, these are all known issues, and even penny stocks — basically what Greek banks have become — have a price. On Thursday, investors seemed ready to take a punt on Greece once more. News that the country was mulling a special-purpose vehicle to help banks speed up their bad-loan sales sent their stocks up as much as 8 percent. Such a backstop would help set bad-loan prices and accelerate the clean-up.
But we know from Italy's experience that getting bad loans off the books is always more difficult than expected, even with the help of a special-purpose vehicle. In 2016, the country set up a 4.25 billion-euro fund with the same purpose in mind: create a market for bad loans and allow banks to plug holes in their capital base. But it ended up being far too small to put out all the fires in the industry. The state had to step in and, in some cases, shareholders were wiped out.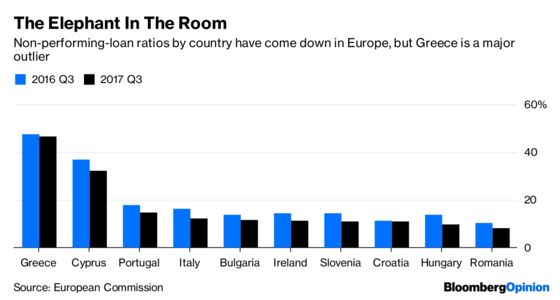 At 106 billion euros according to 2017 figures from the European Banking Authority, the burden of bad loans Greece's banks are groaning under is, in absolute terms, about half that of Italy's. But as a proportion of overall loans, it is 50 percent, or far higher than any European country. And it has failed to come down over the past year, unlike the broader progress seen across the region.
Shareholders are at risk of big losses as banks start to clear these bad loans off their balance sheet at steep discounts to their face value. Greece's government is likely to be very reluctant to splurge money too freely, given it would likely stretch its already strained debt-to-GDP ratios.
What Greece needs is a positive story to tell investors mulling whether to throw good money at bad banks. The problem is that there's no such story to tell at the moment.
Revenue is suffering, and healthy Greek companies that have access to capital markets are raising money from the bond market rather than bank lending. Even at the height of Italy's turmoil, UniCredit SpA had the size and strategy to raise 13 billion euros in capital. But who can easily point to a winner among Greek banks?
The industry will probably get more time, and more help, to purge its bad loans. That direction of travel is clear, even if progress is slow. But shareholders have good reason to worry about what their investment will look like on arrival.
This column does not necessarily reflect the opinion of the editorial board or Bloomberg LP and its owners.
Lionel Laurent is a Bloomberg Opinion columnist covering finance and markets. He previously worked at Reuters and Forbes.