A Big Setback for Reducing Finance's Gender Imbalance
(Bloomberg Opinion) -- Who would go to Grant Thornton for advice on corporate renewal and governance? The British arm of the global audit firm boasts of such services in its annual report. But the defenestration of its U.K. CEO Sacha Romanovitch, a rare female leader of a major accounting practice, points to both a failed attempt at renewal and poor governance in managing the consequences.
Romanovitch was recently the subject of a campaign to undermine her. It involved anonymous bad-mouthing to U.K. newspapers and even the leak of her performance appraisal. On Monday, the firm announced she will leave once a successor can be put forward for election by the partners.
It's not clear who was responsible for the dirty tricks. But given the make-up of the industry, the statistics would suggest that a group of men didn't like the direction she was taking the firm, and mobilized to bring her down.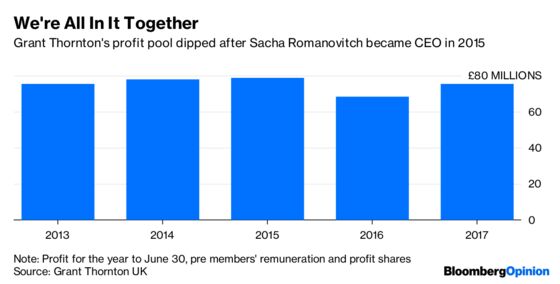 Either way, this episode sends a terrible message and is a huge setback for reducing the gender imbalance in senior financial services roles. Recall that in May, Britain's accountancy watchdog published a review on audit firm culture. It highlighted work by one firm on female employee ratios that noted "a correlation between well-performing teams with low dysfunctional levels, and there being a good proportion of female team members."
Something has gone awry in the governance of an organisation when CEO succession comes to this. Grant Thornton U.K.'s three non-executives, led by former Panmure Gordon chairman Ed Warner, have questions to answer over whether these differences could have been resolved quietly.
Of course, this is a partnership and so the role of CEO isn't like that in a corporate. Candidates put their name forward to a poll of the partners, with an "oversight board" handling the process in the shadows. A cloak-and-dagger approach is normal for the big audit firms – just look at the ruckus at Deloitte LLP's U.S. operation.
In turn, the CEO is hamstrung. He or she can lead, but only on behalf of the partners. The challenges of transformational change are even more acute when the boss's authority is so limited.
From the outside, many of Romanovitch's unpopular initiatives look like radical wisdom. She moved to share some of the profit pool beyond the partnership, helping to retain junior talent and present a more inclusive face to a world that's increasingly set against money-grabbing elites.
She eschewed large-cap audit work. That meant not wasting resources on pitches where a firm from outside the "Big Four" was being included just for appearance's sake. That may not have helped audit competition – but focusing on genuinely winnable business is surely a more sustainable approach unless or until regulation levels the playing field.
Her real fault was to move too fast: she clearly didn't carry the whole firm with her. Opposition from minority owners can be powerful – just ask Unilever Plc.
Auditors, even outside the Big Four, have a serious public interest role. That is why there are now two major reviews into the industry in the wake of the collapse of construction group Carillion Plc earlier this year. As it happens, Grant Thornton is auditor to cake chain Patisserie Holdings Plc, now the subject of an alleged fraud. Its governance needs to be exemplary and transparent.
If Grant Thornton U.K. thinks this is nobody's business because it's a partnership and not a public company, it is wrong.
This column does not necessarily reflect the opinion of the editorial board or Bloomberg LP and its owners.
Chris Hughes is a Bloomberg Opinion columnist covering deals. He previously worked for Reuters Breakingviews, as well as the Financial Times and the Independent newspaper.