Goldman's Quarter Aligns With Solomon's Ascent
(Bloomberg Opinion) -- The second-quarter earnings that Goldman Sachs Group Inc. released on Tuesday were a bit worse than expected, at least in a key area. For David Solomon, who was officially named Goldman's next chief executive officer starting Oct. 1, they couldn't have been better.
Overall, Goldman's results topped analysts' estimates. Revenue was $9.4 billion, which was $625 million more than analysts had predicted. Earnings per share were $5.98, nearly 30 percent more than the $4.65 expected. But revenue in Goldman's trading division, which has long been the firm's profit engine, missed its target. Investment banking revenue, however, was $200 million higher than expected. Lending income, driven by Goldman's online banking startup Marcus, soared.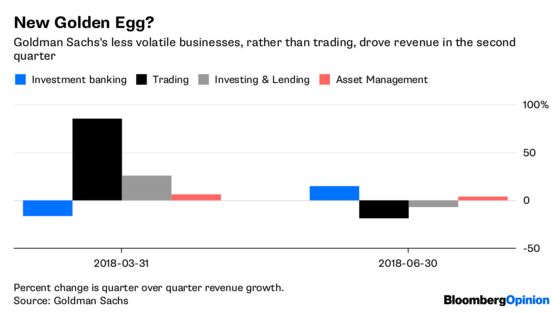 The shift from CEO Lloyd Blankfein to Solomon has been seen not just as a change in leadership but as a shift in emphasis. Blankfein's roots were in trading; Solomon rose through the ranks as an investment banker. The transition is viewed as the next step in a makeover at Goldman that has added more commercial lending and consumer financial services and de-emphasized trading.
This is, of course, a simplification. Solomon has overseen traders, and the transition to more banking started under Blankfein. Nonetheless, the two executives have embraced this transition narrative, which has seemed a little rocky lately. Goldman had a number of quarters of disappointing earnings last year, driven largely by missteps by its trading desk. Earnings surged in the first quarter, but that was driven by a rebound in the firm's business of buying and selling stocks and bonds, underscoring Goldman's reliance on that division.
This quarter puts the Goldman transition story line, and Solomon's proposed evolution of the firm, back on track. It's one that is necessary. Investors have shown less appetite for Wall Street's riskier businesses, rewarding Bank of America and Morgan Stanley for their relative shifts toward less volatile lending and asset-management businesses. Goldman's shares have trailed rivals over the past year.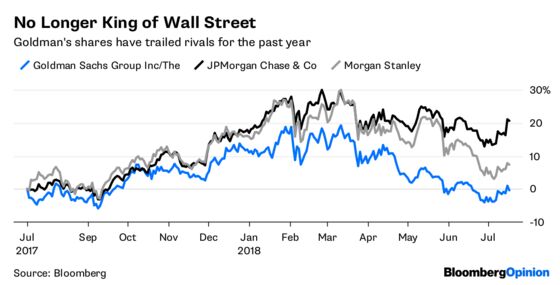 But Solomon still has a lot of work to do. Goldman's trading business generated 38 percent of its revenue in the second quarter. That was down from 43 percent in the first quarter, but it still made trading Goldman's largest division by revenue. An additional 21 percent of Goldman's revenue came from its investing and lending business, the results of which, driven by the firm's private equity investments, have been volatile in the past, though should be less so as the firm boosts lending. And it's not clear just how much Solomon can, or really wants to, shrink Goldman's trading business without significantly reducing profits.
On top of that, Goldman's recent stumble on the Federal Reserve's stress test, and comments from Blankfein in which he didn't initially speak out forcefully against the Trump administration's immigration policies, particularly the separation of families at the border, most likely expedited the leadership transition, which was not expected until next year. It's a bit symbolic, but it's one that investors should cheer.
Stephen Gandel is a Bloomberg Opinion columnist covering banking and equity markets. He was previously a deputy digital editor for Fortune and an economics blogger at Time. He has also covered finance and the housing market.