Goldman Sachs Backs an ETF That Returns the Love
(Bloomberg Opinion) -- Perhaps because of a declining faith in government, there has been a growing sense that a good way to solve the nation's social problems — from gun violence to pollution — is through investing. And if you're going to get serious about social investing, eventually you have to deal with the investing side of the equation. That means most roads lead to Wall Street, where there's always a bank willing to cater to your needs if there's money to be made.
Enter Goldman Sachs, which, along with Just Capital, on Wednesday launched an exchange-traded fund that invests based on a ranking of companies that engage in "just business behavior." It is called the Goldman Sachs JUST US Large Cap Equity ETF. The ranking was developed by Just Capital, which is financed by hedge-fund legend and billionaire Paul Tudor Jones II.
If you're going to put your name on an ETF about socially conscious investing, it helps if the rankings it's based on don't paint you as some rapacious bank. Not surprisingly, Goldman itself ranks relatively high on the "justness" scale of firms in the ETF. Out of more than 800 companies, Goldman ranks 65. That's not at the top of the list, which is dominated by technology firms, with nine of the top 10 spots. But it seems relatively high. Costco Wholesale Corp., which has long received high marks for how it treats its workers, ranks 358. Starbucks Corp., until recently headed by Howard Schultz, who has been outspoken on social issues, is 462. Dick's Sporting Goods Inc., which recently announced it will stop selling assault-style rifles, is so low it doesn't receive an actual number, only a designation that it is among the bottom 10 percent in Just Capital's opinion.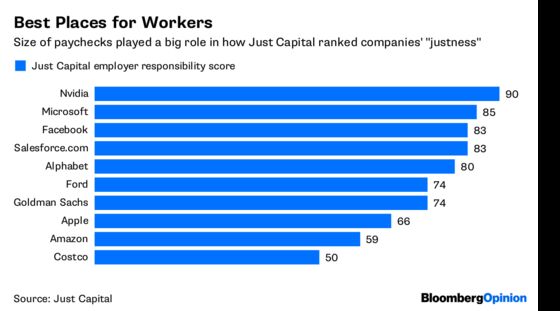 Other Wall Street firms don't rank as high has Goldman. Bank of America Corp. is the next highest big bank at 104. Wells Fargo & Co. is at 189. Money managers Legg Mason Inc. and BlackRock Inc. come in at 73 and 201, respectively. JPMorgan Chase & Co. gets a seemingly low rank of 481, apparently because it gets a score of negative 19 on "provides a positive customer experience," which was even worse than Wells Fargo's negative 14 in the same category.  
As my colleague Matt Levine noted on Tuesday, a big problem with constructing socially conscious funds is how to weight the social issues that determine the rankings. How do you rank a tobacco company that is good for the environment and pays well despite peddling death? Just Capital gets around this by surveying Americans and letting them decide each year what the most important social issues are. Then it compiles reams of data to rank companies according to what survey respondents deem important. Just Capital appears to do a credible job of crunching data without putting a Wall Street thumb on the scale, but as with any survey results, which is essentially what these rankings are, the questions matter and can steer the outcome in unusual ways.

The issue that weighs heaviest in the Just Capital ranking, at 23 percent, is how companies treat their workers, and the biggest input in determining that is whether a company pays a salary that "covers local needs for food, housing and medical care." This is where Goldman appears to rocket up the rankings. The average compensation at Goldman last year was $323,852, a high living wage. The result is that the firm ranks No. 1 in the category, not only among finance companies but overall, with a score of 72. Costco is the highest ranked among traditional retailers, but just 434 overall, because retail pays much less than finance or tech. It receives a pay score of only 50.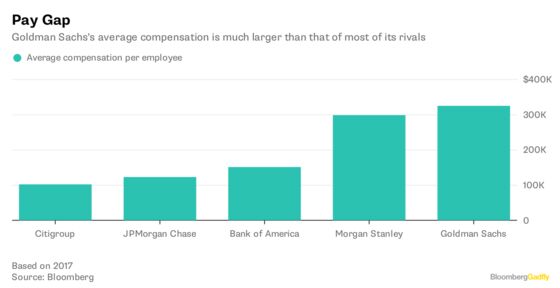 A living wage most likely ranked high in Just Capital's survey of Americans because of concerns about income inequality and the social ills that creates. But this ranking doesn't seem to do anything to address that. Instead, it could enable it. I have argued that one of Goldman's biggest problems, not just for society, but for its own bottom line, is that it pays its workers too much. More pressure on its stock could fix this. Instead, socially responsible funds that direct more investing dollars to Goldman and the rest of Wall Street aren't going to solve that.
Goldman isn't marketing this ETF out of a sense of altruism. It's getting a little something for its trouble. But as an added bonus, if you're going to burnish your reputation as a supporter of social justice, it helps if the rankings you use say you're doing a pretty good job at it yourself.