America's Beloved SUVs Won't Always Guzzle Gas
(Bloomberg Opinion) -- General Motors Co. announced this week that it will be closing factories and laying off thousands of workers as it shifts its focus to light trucks, crossovers and electric vehicles. Its current investment strategy reflects the reality of U.S. consumer preferences; its future strategy is a bet that electric cars are here to stay.
As my Bloomberg Opinion colleague Justin Fox noted earlier this week, "the U.S. vehicle market has come to be dominated by sport utility vehicles and pickups to an extent never before seen." In an auto market that has posted flat sales for the past four years, light trucks (which include sport utility vehicles) make up more than two-thirds of total purchases.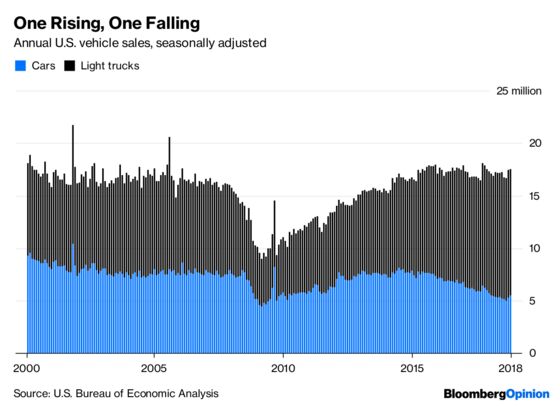 Pickups are certainly popular in the U.S. — the Ford F150 has been the bestselling vehicle for decades — but when we dig deeper into light truck sales, we can see that trucks aren't what they used to be. American cars are now light trucks; American light trucks are now SUVs.
Five years ago, medium- and full-size pickups were the largest group of vehicles sold within the U.S. light truck category. Since the start of 2016, though, a single class of SUVs — compact crossovers, such as the Ford Escape, Honda CR-V, Subaru Forester and Toyota RAV4 — has been bigger on its own than the entire pickup market.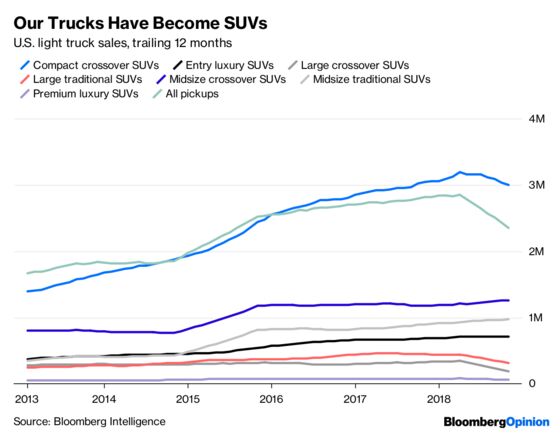 So how will an increasingly diverse field of electric vehicles intersect with Americans' growing preference for big pickups and small SUVs?
I'm in Shanghai this week, where electric vehicles with their distinctive green license plates are easy to spot. Most of them are Chinese-made; many of them are small SUVs. That China offers generous incentives to electric vehicle buyers certainly helps propel these models to market, but they also match nicely with the (not just American) preference for taller SUVs and crossovers. Jaguar already offers an electric SUV; Audi has announced one. Electric drivetrains won't find much trouble fitting into the buying preferences or driving habits of global SUV seekers.
What about pickups? This week, EV startup Rivian Automotive Inc. announced production dates for its "electric adventure vehicles." Its electric pickup boasts specifications you'd be hard-pressed to find in any internal combustion engine vehicle: a 0-to-60 time of three seconds; a "wading depth" of 3 feet; an 11,000-pound towing capacity. It also has uniquely electric features, such as four motors that provide independent power to each wheel.
If Rivian, and its eventual electric pickup peers, are successful in the U.S., they'll be growing in a flat auto market. That makes Scaringe's goal intriguing, because it would mean eating into demand, even incrementally, from another vehicle class. The question, then, is this: Would a $69,000 electric pickup eat into the top end of the truck market or the heart of the luxury SUV market?
This column does not necessarily reflect the opinion of the editorial board or Bloomberg LP and its owners.
Nathaniel Bullard is an energy analyst, covering technology and business model innovation and system-wide resource transitions.