Tesaro Is the Wrong Medicine for Glaxo
(Bloomberg Opinion) -- GlaxoSmithKline PLC's ambitious but rather vague efforts to rebuild its pharma unit became more concrete Monday with its $5.1 billion acquisition of Tesaro Inc. But the deal comes with details that investors may not like. 
The company is paying a significant premium for Zejula, an ovarian cancer drug with sluggish sales, and an unproven pipeline.  It's difficult to get biotech deals done without paying up, and Glaxo is rebuilding a cancer program from scratch. While Tesaro's lofty past valuation gives the appearance of a bargain, Glaxo may not have gotten one. Glaxo achieved an ignominious milestone Monday morning: Its market cap declined by more than the deal cost.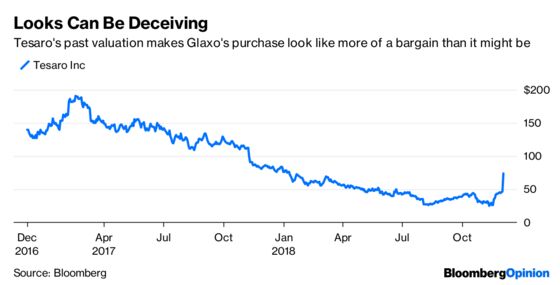 Tesaro's value has plunged for good reason. Zejula is a so-called PARP inhibitor, and it isn't alone in the drug universe. The FDA approved Merck & Co. and AstraZeneca PLC's Lynparza in 2014. It has since been joined by Zejula, Clovis Oncology Inc.'s Rubraca and Pfizer Inc.'s Talzenna. 
At Tesaro's peak share price, investors thought Zejula had a unique ability to reach a broader array of patients. Subsequent results have suggested that there may not be much separating the various PARPs, and sales estimates have plummeted.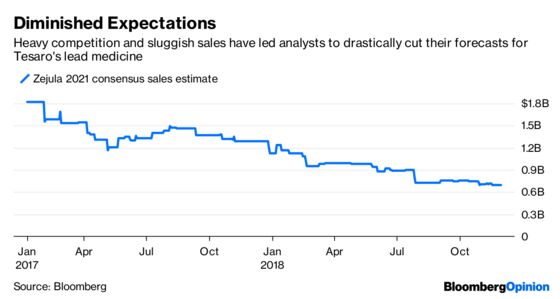 Glaxo argued on a conference call Monday morning that Zejula is different and that PARPs are undervalued. But the first has yet to be proved, unless we're talking side effects, where Zejula has had some issues. 
And PARPs may still be overrated. There are risks to efforts to extend the use of these drugs to more patients. And while cancer drugs have traditionally been immune to price competition, PARPs are a logical place to start. Pharmacy benefit managers are certainly interested in the idea. 
Furthermore, Zejula has had difficulty in making sales headway against Lynparza, which has generated formidable data in recent clinical trials.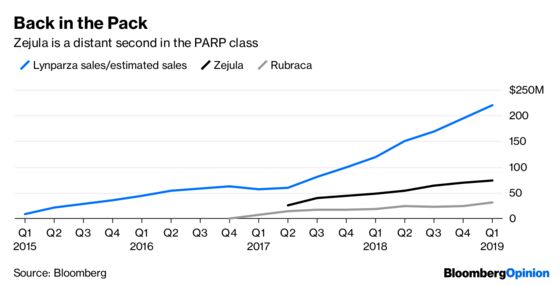 For this deal to pay off, Zejula must reach more patients. A big opportunity is a risky trial in an expanded population of women with ovarian cancer. Data is due in late 2019, and a success would boost sales. But a failure would firm up sentiment that Glaxo overpayed. 
After that, Tesaro has been focused on combinations with other medicines, which will be a competitive area given Merck's intense interest in combining Lynparza with its class-leading cancer drug Keytruda. 
Tesaro's most advanced pipeline product is in the same immune-boosting class as Keytruda, arguably the only group of cancer drugs more competitive than PARPs. It has limited prospects beyond combo efforts. Tesaro's other cancer assets are potentially interesting, but it's far too early to ascribe much value to them.
A pricey PARP gamble would be one thing if Glaxo were flush with cash. But the company spent $13 billion to fully take over its consumer joint-venture with Novartis in March. Glaxo's firm commitment to its dividend and significant debt load will have it walking something of a financial tightrope, even though a chunk of this deal can be paid for by the sale of its Indian consumer business to Unilever for $3.8 billion.
The need to keep up on those obligations may have made the firm inclined to favor a commercial asset, even though they are more costly. But Zejula won't help all that much at its current run rate, and any benefit may be offset in part by clinical trial spending. 
Zejula finally may prove to be the best of the PARPs, and Glaxo's development plan may be the smartest and most aggressive. But spending big on a drug that's often disappointed ardent fans so far is a risky way to kick off its pharma renaissance. 
This column does not necessarily reflect the opinion of the editorial board or Bloomberg LP and its owners.
Max Nisen is a Bloomberg Opinion columnist covering biotech, pharma and health care. He previously wrote about management and corporate strategy for Quartz and Business Insider.