Gilead Needs More Than a Steady Hand From Its New CEO
(Bloomberg Opinion) -- Gilead Sciences Inc. has been in leadership limbo for five uncomfortable months; replacing a CEO and chairman combination that turned the company into a giant isn't easy. 
So the hiring on Monday of Roche Holding AG pharma head Daniel O'Day comes as a significant relief. It ends uncertainty, for sure. More important, O'Day is clearly qualified. He's a veteran of one of the world's most successful pharma firms and has deep expertise with cancer medicines, a priority for Gilead.  
He'll be a welcome steadying hand once he takes over both roles in March. But for Gilead to emerge from multiple years of share price doldrums, O'Day will have to do a fair bit of surgery.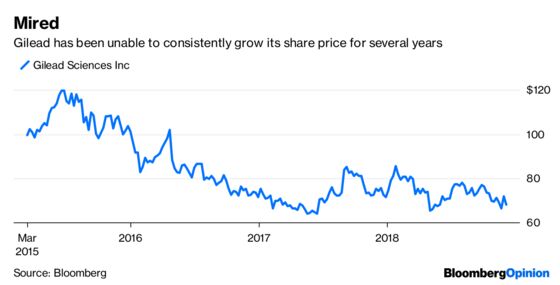 He is taking the reins at a biotech that has imitated the worst qualities of big pharma at times. Its sales have been declining since 2015 as its hepatitis C medicines lose market share to newer and cheaper competitors and the market of potential patients shrinks. It has become completely reliant on a few drugs in its HIV franchise for growth. Too much of Gilead's drug pipeline is unproved or will be subject to fierce competition. 
Gilead has more than $30 billion in cash that could be used to fix all of the above. But it has struggled to find good uses for its money. The firm arguably overpaid for its $12 billion acquisition of Kite Pharma Inc. last year, a long-term investment in a new approach to treating cancer that is a long way from proving itself commercially. More than $20 billion in largely underwater buybacks and the addition of a dividend have done little to cheer shareholders.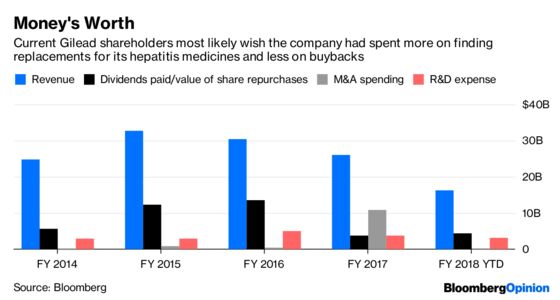 Deploying capital at Gilead will be different from directing Roche's behemoth R&D budget. With declining sales and an iffy pipeline, the stakes are higher for each deal. While Gilead's reserves are substantial, they were generated by a hepatitis windfall that won't repeat itself. 
If O'Day chooses large or even mid-scale M&A, which would be a divergence from his recent focus on smaller deals at Roche, there will be a great deal of pressure to get it right. Gilead needs better value for its money in future deals and to better balance the need for near-term growth with long-term projects.
He also needs to make hard decisions about what Gilead wants to focus its resources on beyond anti-viral products, which generated 85 percent of its sales in the most recent quarters. Cancer is an obvious choice, but Gilead has also made substantial investments in inflammation and liver diseases that have yet to make a commercial splash. 
O'Day is certainly a pedigreed choice. Now he just has to prove he can be a transformative one. 
This column does not necessarily reflect the opinion of the editorial board or Bloomberg LP and its owners.
Max Nisen is a Bloomberg Opinion columnist covering biotech, pharma and health care. He previously wrote about management and corporate strategy for Quartz and Business Insider.