General Electric Has Reason to Offer Thanks
(Bloomberg Opinion) -- The beatings for General Electric Co have finally eased off during the Thanksgiving holiday lull, at least in terms of the credit market. There might be more to it than just an absence of market activity as traders tuck into their Turkey.
The U.S. industrial giant has been through the wringer ever since its third-quarter results and the subsequent loss of its coveted single-A credit ratings – the result of double-notch downgrades from the three main rating companies. Its credit spreads widened to junk bond levels on fears that it would struggle to fund itself with commercial paper, the short-term loans relied on by big corporations. But some calmer heads are returning, as the chart below shows. The tide may even have turned, at least from a bond market perspective.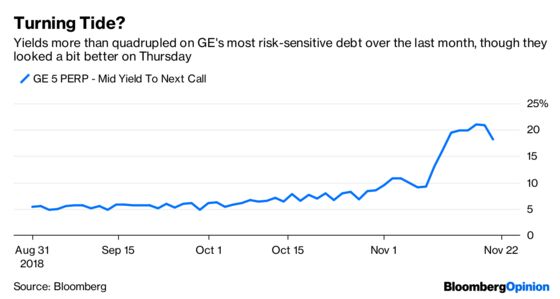 With $26 billion of debt falling due over the next couple of years out of total debt of over $110 billion, GE's highly leveraged structure has been called into question, specifically at its finance arm GE Capital Corp. Yet with the company speeding up its asset disposals and the reassuring buffer of $41 billion of credit facilities – half of which comes from a broad base of 36 banks – the liquidity crunch should be put in context.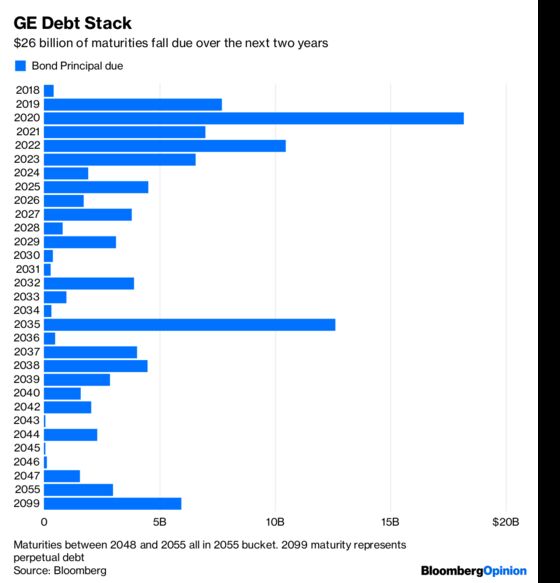 Cash on the balance sheet of more than $20 billion spread over various operating units should support near-term liquidity. A return to stability might even let the company buy back some shorter-term bonds to reduce that imminent hump of debt falling due. GE has cut its dependence on commercial paper from near $40 billion three years ago to a more sustainable $15 billion. It will drop further.
Confidence is a febrile thing and this is just financing we're talking about. GE's management still has an awful lot to do to steady the actual business. But markets can sometimes overshoot. And this looks a classic case of just that after October's stock rout seeped into a system-wide risk-off stampede. Fears about GE played into that, of course, considering the famous vastness of its debt. But if credit markets recover their poise, GE might lead the way.
This column does not necessarily reflect the opinion of the editorial board or Bloomberg LP and its owners.
Marcus Ashworth is a Bloomberg Opinion columnist covering European markets. He spent three decades in the banking industry, most recently as chief markets strategist at Haitong Securities in London.