GE Investors Want More Show, Less Tell
(Bloomberg Opinion) -- General Electric Co.'s words are ringing hollow.
Shares of the troubled industrial conglomerate continued their downward spiral on Monday, slumping as much as 10 percent to dip below the $8 threshold. This follows a 5.7 percent rout on Friday after JPMorgan Chase & Co. analyst Steve Tusa warned GE's deteriorating earnings and cash-flow outlook is colliding with an estimated $100 billion of net liabilities. Some of his concerns were echoed in a report out this week by Credit Suisse analyst John Walsh. That certainly didn't help the stock, but I think the culprit for Monday's slump was GE CEO Larry Culp's interview with CNBC.
It was his first broadcast interview since taking over for John Flannery in October. While Culp appeared genuine, he fell short of providing any fresh answers for the big issues dogging GE. These include the credibility of its numbers, the timeline for a recovery in its power business, and how exactly it's going to reduce a mountain of liabilities that Culp acknowledges is too big. He's been in the job for six weeks, and I can't fault him for not having immediate solutions to problems that have been festering for decades. But if he's still working out a plan — and the lack of detail in his interview suggests he is — then he best focus on it, and accept that GE's stock price may get rocked in the meantime.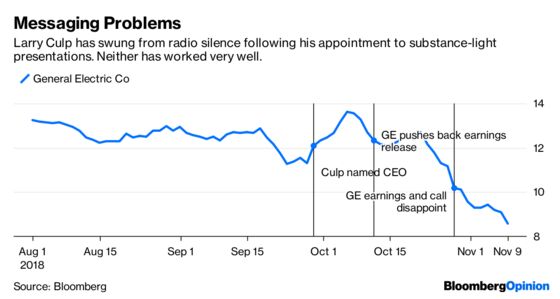 His current mix of decisiveness on some points and vagueness on others just isn't working. On GE's earnings call just two weeks ago, Culp definitively declared GE has "no plans for an equity raise" and refused to elaborate when pressed by an analyst. In the CNBC interview Monday, Culp reiterated that phrasing but then added this disclaimer: "As conditions change in the future, we might come back and reconsider that." An equity raise should be on the table, but I struggle to understand why Culp ever suggested otherwise. Likewise, I've been flummoxed by GE's counterattacks of analyst reports criticizing the company and its efforts to arrest the stock decline.
Don't get me wrong: I'm a strong proponent of openness and transparency and I equally criticized Culp for not holding a conference call when he was appointed CEO. But I did that because I believed GE would have something substantive to say and it's becoming increasingly clear that it doesn't yet.
In response to Tusa's note on Friday, GE said it's a "fundamentally strong company" and is taking "aggressive action" to strengthen its balance sheet. For one thing, I think we have different definitions of "fundamentally strong." But the reality is those words just don't mean anything when stacked up against the uncertainty swirling around the company's debt load, regulatory investigations and earnings prospects.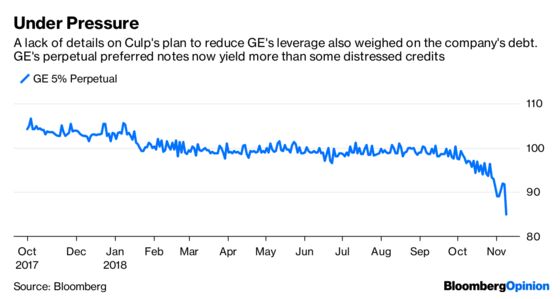 Culp on Monday told CNBC that GE has "no higher priority right now" than reducing its leverage. OK, but what investors want to know is how he's going to do that. GE has already given itself wiggle room on its goal of reducing net debt to less than 2.5 times Ebitda by 2020. Culp flagged the prospect of selling a bigger portion of the health-care unit than the 20 percent slice GE was already planning on, and winding down its stake in the Baker Hughes energy assets. But a bigger health-care stake sale would hand some of the spinoff benefits for shareholders to bondholders instead. And while Baker Hughes is a liquid asset, it's not a simple one to sell at a good price.
Until GE has some sort of progress to show for itself and can convince investors that it has plugged the steady drip of negative surprises, all this talk is doing more harm than good.
This column does not necessarily reflect the opinion of the editorial board or Bloomberg LP and its owners.
Brooke Sutherland is a Bloomberg Opinion columnist covering deals and industrial companies. She previously wrote an M&A column for Bloomberg News.