GE's Credibility Problem Persists in Culp Era
(Bloomberg Opinion) -- Larry Culp is General Electric Co.'s first outsider CEO, and he could do more to act like it. 
GE didn't host a conference call Oct. 1 when it announced that Culp, the former CEO of Danaher Corp., would replace John Flannery as head of the company. That made GE's third-quarter earnings release this week his public debut. It started out fine: GE climbed in pre-market trading as shareholders interpreted Culp's decision to slash the dividend to a penny as a sign his turnaround efforts won't be encumbered by deference to the company's legacy. But things went rapidly downhill once Culp and CFO Jamie Miller started speaking on GE's earnings call. The stock promptly reversed course and continued to slump the next few days, closing under $10 on Thursday for the first time since 2009.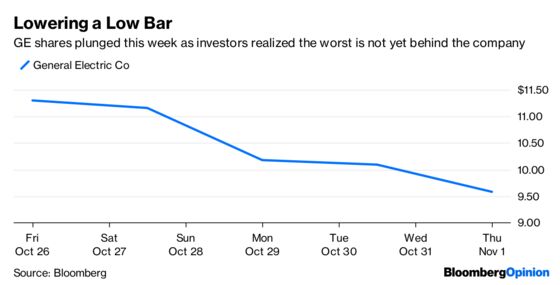 What was so discouraging about the call is that it was vintage GE: lots of talk but little clarity. Culp is splitting GE's unkempt power unit in two to drive "more transparency and more accountability," but there's been little of either in his performance so far. Open and transparent companies don't slide disclosure of an expanding SEC and now DOJ investigation of their accounting practices into opening remarks on an earnings call, as GE did. Recall that GE did the same thing in January when it first disclosed the SEC investigation into its surprise $15 billion reserve shortfall at a legacy insurance business along with the company's controls for long-term service agreements. The move damaged Flannery's credibility at the time and it undercuts Culp's now.
It was also somewhat weird that CFO Miller was the one who made the disclosure. She delivered the January notice and obviously is qualified to do so, but there's something to be said for a "buck stops here" mentality. Culp is certainly getting paid enough. Miller then read off a litany of potential coming horrors that could force GE to funnel additional funds to GE Capital beyond the $3 billion it's already committed. These now include a new accounting standard that could balloon its insurance headaches and a vague allusion to tax reform.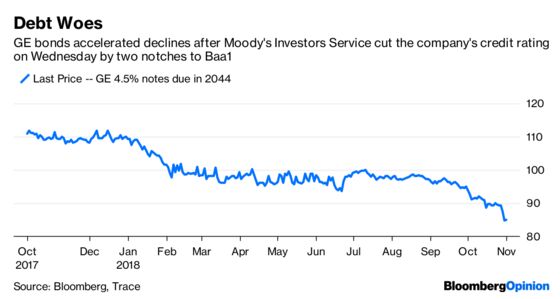 I understand Culp has only been in the CEO seat for about a month. He was appointed to the board in April, but that likely only gave him a relatively high-level overview of GE's challenges that importantly was predicated on information handed to him by GE's former management team. That's the same management team that signed off on GE's power goodwill balance in a quarterly filing in July, only to announce a $22 billion writedown a few months later.
GE took the unusual step of delaying its earnings report by a few days to give Culp more time to assess the business. The postponement seemed a little strange at the time and seems even more bizarre in hindsight. What was the point? I kept waiting for Culp to give some kind of rundown of what he'd used the time for. From the outside looking in, there was nothing said on that conference call that couldn't have been said on the original date of Oct. 25 and that includes the dividend cut.
If, as Culp contends, he hasn't spent enough time in the CEO seat to definitively answer questions about GE's business, then he should stick to that line. Instead, when faced with tough queries, he pulled a politician pivot. That's how a question from JPMorgan Chase & Co. analyst Steve Tusa on potential liabilities from shareholder lawsuits alleging flawed accounting practices on long-term service agreements turned into a pep talk on the opportunities to run the service arm of GE's power unit better. I understand the instinct to play up the positives and focus on the future, but it rings hollow when GE is still so haunted by the mistakes of its past.
And if Culp is still assessing the hot mess he inherited, then it seems unwise to curtly rebuff the idea of an equity raise or a major rework to the breakup plan GE laid out in June. This gave the illusion of a plan, even as management wasn't able to come up with very substantive answers about the credibility of the numbers upon which they would presumably base such decisions. Culp had an impressive track record at Danaher, but he was primarily in the business of acquiring OK-ish companies and making them great via operational improvements. He didn't have to deal with the kind of balance sheet woes and painful liquidity and portfolio decisions GE now has to make.
This column does not necessarily reflect the opinion of the editorial board or Bloomberg LP and its owners.
Brooke Sutherland is a Bloomberg Opinion columnist covering deals and industrial companies. She previously wrote an M&A column for Bloomberg News.