GE Downgrade Powers Up Debt Headwinds
(Bloomberg Opinion) --   ↵
It's just another day in the slow unraveling of the old General Electric Co.
Moody's Investors Service on Wednesday lowered the troubled industrial conglomerate's credit rating by two notches to Baa1, citing the damage wrought to GE's cash-flow prospects by the continuing deterioration of its power unit. The ratings reduction is something of a formality. GE's disclosure earlier this month of an earnings shortfall and a $22 billion goodwill writedown in its power unit prompted Moody's to put its rating on review for downgrade. S&P Global Ratings made a similar cut on Oct. 2, lowering GE's rating to BBB+ from A.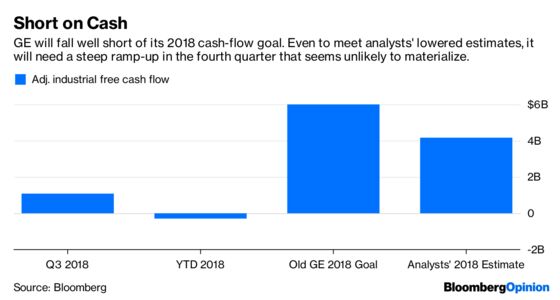 Perhaps what's most surprising is that these downgrades took so long. GE's Ebitda and debt metrics have eroded, and it has become increasingly clear they won't approach the level appropriate for its former credit ratings for some time. But Moody's was inexplicably patient with GE, even going so far as to seemingly introduce wiggle room in its factors for possible downgrade. In January, Moody's said GE's credit score could be docked if it perceived the company would be unable to restore the operating margin in its power unit to "at least" 15 percent. By April, that benchmark was "towards the low to mid-teens level." In this latest downgrade, Moody's says it's now looking for an operating margin in at least the mid-single-digit range. 
GE's bonds have traded wider than some BBB-tier industrial peers for months now, as Bloomberg Intelligence's Joel Levington has noted. That raises the question of whether the ratings firms have gone far enough with these latest cuts.  
GE's bonds added to declines on news of the downgrade. Its 5 percent perpetual bond declined 1.13 cents to 92.13 cents on the dollar as of 4:02 p.m. in New York, a new low. The biggest impact may be in the commercial paper market, with Moody's lowering its grade on GE's short-term debt to P-2 from P-1. GE borrowed an average of almost $10 billion in the third quarter from the commercial paper market. The company slashed its quarterly dividend to a mere penny a share on Tuesday as it reported weaker-than-expected third-quarter results, in part to reduce its need for such intra-quarter borrowing.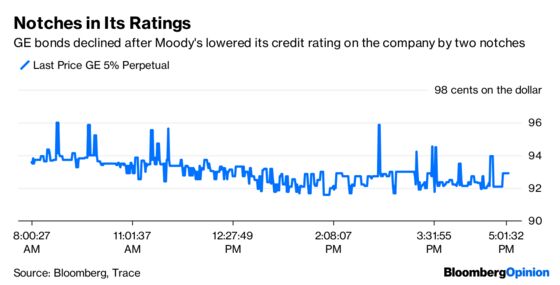 Beyond the balance sheet implications, I was struck that Moody's specifically called out a 
blade oxidation issue
with GE's flagship H-class gas turbines as a potential risk. An incident related to this issue prompted Exelon Corp. to temporarily shut down two power plants in September. An inability to fix the issue could be cause for another downgrade, Moody's said.
GE has a replacement blade in production, and executives have dismissed the issue as a routine one common in new technology rollouts whose impact was overstated. But JPMorgan Chase & Co. analyst Steve Tusa has highlighted other setbacks with the turbine that customers have reported, ranging from excessive vibration to axial fuel-staging failure.
The severity of those other bugs is unclear, but it costs money to fix technological flaws, and such setbacks risk undermining GE's reputation when it's already trying to balance a need for severe restructuring with an effort to maintain the quality of its service and product offerings. GE recorded $240 million of warranty and maintenance reserves related to the blade issue in the third quarter. It expects to incur a similar incremental amount of cost over time as it performs planned outages related to the blades under its services contracts.
Moody's, in its reports on United Technologies Corp.'s bonds, cited the risk of additional technical issues with the company's geared turbofan aircraft engine in a similar fashion. The engine has been a steady source of headaches as the company sorted through issues with the knife-edge seal, the combustor liner and more recently excessive vibration. United Technologies has had to compensate airlines for the resulting disruptions. GE doesn't want its H-class turbine lumped into the same category, but clearly Moody's sees enough to warrant doing so.  
This column does not necessarily reflect the opinion of the editorial board or Bloomberg LP and its owners.
Brooke Sutherland is a Bloomberg Opinion columnist covering deals and industrial companies. She previously wrote an M&A column for Bloomberg News.