GDP Isn't Growing Fast Enough for Markets
(Bloomberg Opinion) -- President Donald Trump promised on Thursday that the second-quarter gross domestic product number would be unthinkable. The number was, instead, what everyone expected, and that could pose a problem.
The Commerce Department reported on Friday morning that second-quarter GDP rose an annualized 4.1 percent, just slightly less than forecasts for 4.2 percent. The biggest issue is that the number indicates that the economy is falling far short of what both stock and bond investors have come to expect.
Stocks soared after the election, and more recently interest rates began climbing, apparently on the assumption that Trump, with deregulation and tax cuts, would create a fundamental shift in the economy. Both rates and stocks have cooled recently, but stocks have leveled off at a range that anticipates an economy that will grow significantly faster than it has. The total value of all U.S. stocks is now equal to 154 percent of the annualized GDP. That's above the 130 percent that the market has traditionally traded around and what many think indicates stocks are fully valued. For the market to get back to 130 percent, it would require a much more robust pace of growth.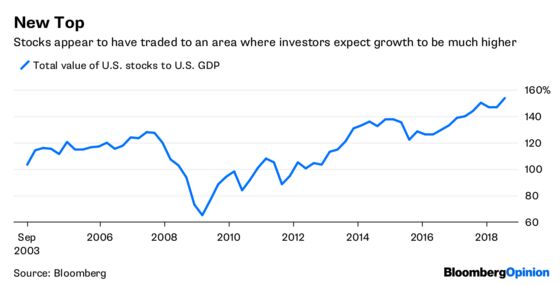 While the 4.1 percent GDP number was the best in four years, it wasn't the strongest quarterly growth since the recession. And the number appears to be pumped up by a temporary spike in exports ahead of threatened tariffs as well as a jump in government spending. Economists say neither is sustainable. They expect GDP growth to cool to 2.8 percent in the third quarter. Year over year, as opposed to quarter over quarter, GDP was up only 2.8 percent. Go by current estimates, and GDP growth for all of 2018 will come in at 2.9 percent, short of the 3 percent that at least psychologically would suggest some fundamental shift in the economy.
For the bond market, the GDP figure did little to alter traders' prevailing worldview — namely that the Federal Reserve will continue to gradually raise interest rates while longer-term yields remain locked in place because of structural forces.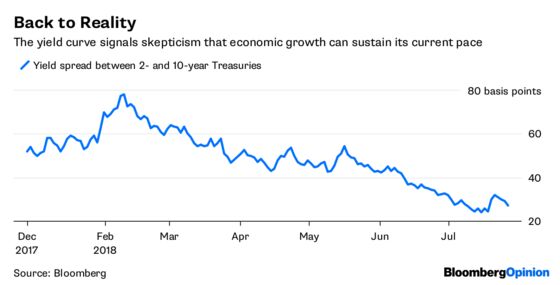 The yield curve flattened anew, supported by data showing lower-than-expected inflation in the second quarter. At 2 percent, that's enough to keep Fed Chairman Jerome Powell comfortable with the central bank's path of rate hikes, while also not hot enough to push 10-year yields back above 3 percent. On top of that, there's no shortage of pundits who will say this quarterly GDP figure is the best it's going to get. The rates markets largely agree. As we noted earlier this month, eurodollar futures are indicating that the Fed will have to stop hiking by the end of 2019. That's still the case, but traders have priced in more tightening between now and then.
The mindset of bond traders, for now, will continue to be that "this can't last." Personal consumption crushed expectations, and yet with that now in the rearview mirror, it may just signal a slowdown ahead. Even the revised spike higher in the saving rate over 2016 and 2017 masks the fact that workers haven't received bigger wage increases lately. U.S. growth depends on a strong consumer.
The one person convinced of sustained economic growth is Trump. "We're going to go a lot higher than these numbers," he said in remarks after the GDP report came out. That would be welcome news for the markets. It's just not what they're seeing yet. 
This column does not necessarily reflect the opinion of the editorial board or Bloomberg LP and its owners.
Stephen Gandel is a Bloomberg Opinion columnist covering banking and equity markets. He was previously a deputy digital editor for Fortune and an economics blogger at Time. He has also covered finance and the housing market.
Brian Chappatta is a Bloomberg Opinion columnist covering debt markets. He previously covered bonds for Bloomberg News. He is also a CFA charterholder.