Gap Promised a Turnaround by Now. Where Is It?
(Bloomberg Opinion) -- For the first part of this year, Gap Inc. had been hoping investors would gloss over a missing piece in its turnaround story. Its namesake brand was flailing even as Old Navy remained strong and Banana Republic appeared to be healing.
The company's third-quarter earnings results make that increasingly difficult to do.
Gap reported late Tuesday that its company-wide comparable sales were flat compared to a year earlier. Results were dragged down by the Gap chain, where revenue by that measure sank 7 percent from a year earlier.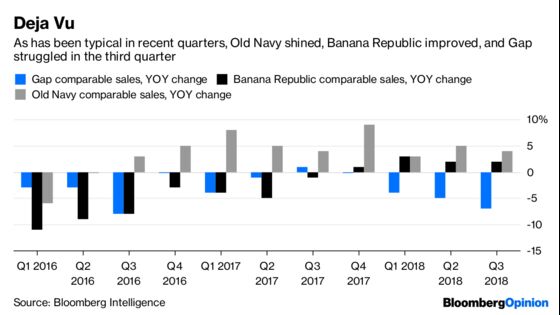 This was an important moment for Gap to show some fresh momentum, as executives had suggested it was a period when some key problems would finally be in the rearview mirror. Instead, not only did comparable sales decline — they sank even more than in the first or second quarter.
Management had chalked up the woes at Gap to operational snafus, in which merchandise was hitting stores at the wrong time, leading the company to resort to markdowns. Executives also said they simply had too many different styles in their line-up.
We had been assured by CEO Art Peck that he had this under control. He ousted the head of the Gap segment, Jeff Kirwan, earlier in 2018 over this mess. On an earnings call with investors back in May, Peck spoke confidently about the situation, saying, "We have run this one to ground. We know what it is. We have resolved it. And as I said, we expect to see this behind us as we get into the back half of the year."
And yet, now that the back half is here, things still look bleak. It makes me question whether Peck truly has diagnosed the chain's problems as thoroughly as he thinks.
I know Gap views its eponymous brand as a "mature" one, and its company-wide strategy calls for much of its growth to come from active-apparel chain Athleta and family-friendly Old Navy. The latter, in particular, continues to be a bona fide retail-industry bright spot, with comparable sales increasing 4 percent in the third quarter over a year earlier.
But the consistent strength at Old Navy isn't enough for me to feel confident about this company's direction. Gap brand last year still accounted for more than 33 percent of the company's sales. It simply can't be permitted to keep sliding into irrelevance.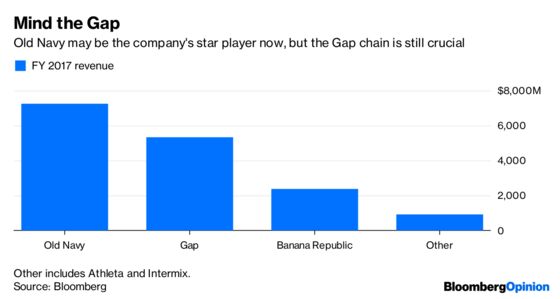 The last several years have felt like a game of whack-a-mole at the Gap chain. There have been off-trend fashions, problems with garment fit and quality. Can Gap ever manage to get all these things going right at the same time? A turnaround would seem out of reach if it can't. 
This column does not necessarily reflect the opinion of the editorial board or Bloomberg LP and its owners.
Sarah Halzack is a Bloomberg Opinion columnist covering the consumer and retail industries. She was previously a national retail reporter for the Washington Post.