GAM Struggles to Rebuild Its Reputation
(Bloomberg Opinion) -- GAM Holding AG is learning that just as the three most important characteristics in real estate are location, location and location, there are only three things that count when managing other people's money: Reputation, reputation and reputation.
The Swiss fund manager has been in a tailspin since it announced the suspension of Tim Haywood, manager of its flagship absolute return bond funds, in July. But after jettisoning Chief Executive Officer Alex Friedman this month, GAM needs to find a permanent replacement who can set a strategy for recovery if it is to avoid being sold to a competitor at its current bargain-basement valuation.
News this week that Mario Gabelli, the billionaire founder of Gamco Investors, now owns about 3 percent of GAM's shares can be taken one of two ways. It could be a vote of confidence in the firm's ability to dig itself out of its current hole, either by itself or by finding a buyer. Or it could simply be a recognition that the stock is too cheap for a value-driven investor to ignore. Either way, with GAM's current market value at less than 1 billion Swiss francs ($1 billion), Gabelli isn't risking much of the more than $40 billion he oversees.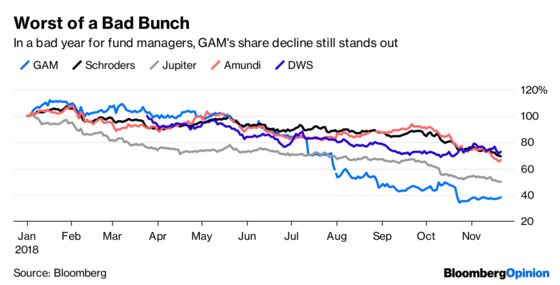 Assets at GAM's investment management unit dropped to less than 67 billion Swiss francs in the third quarter, a decline of more than a fifth in an industry where size is increasingly the yardstick by which success, and indeed survival, is determined.
Part of that shrinkage is down to the unwinding of the portfolios Haywood oversaw. But clients, whose faith in GAM has been seriously tested, are likely to pull more funds in the final three months of the year.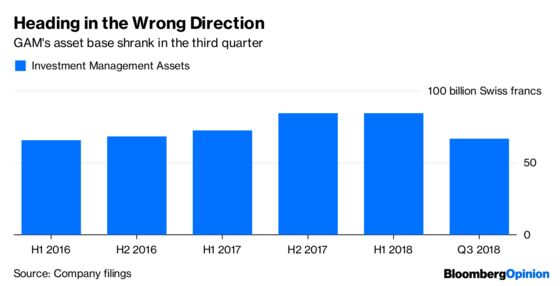 But while cost-cutting is a sensible response to a shrinking asset base, it's hardly a strategy for rebuilding the business. There's only so much that Jacob, an industry veteran installed as a safe pair of hands, can do without muddying the waters for whoever the board can persuade to take on the top job.
This week's 3 percent rally in GAM's shares still leaves them down by more than 60 percent this year. The company is clearly wounded. But without a permanent CEO, its path to recovery remains uncertain at best.
This column does not necessarily reflect the opinion of the editorial board or Bloomberg LP and its owners.
Mark Gilbert is a Bloomberg Opinion columnist covering asset management. He previously was the London bureau chief for Bloomberg News. He is also the author of "Complicit: How Greed and Collusion Made the Credit Crisis Unstoppable."