GAM's Ugly Crisis Reaches Terminal Velocity
(Bloomberg Opinion) -- In an industry where scale has become the all-important metric, Swiss investment management firm GAM Holding AG's assets are heading in the wrong direction – fast. And so are its shares.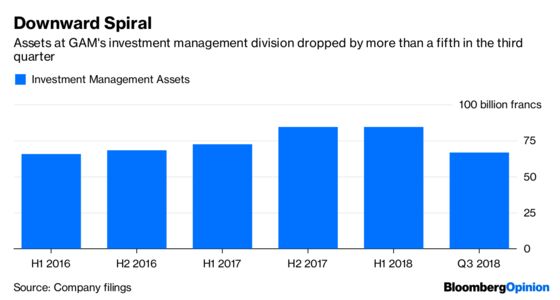 The proximate cause of the record net outflows the company suffered in the third quarter was the July 31 suspension of star fund manager Tim Haywood after an investigation into "some of his risk management procedures and his record keeping." That move was always bound to unnerve some customers and prompt them to pull their money out.
But the investment manager has failed to stop the rot. "During October 2018, so far, GAM has seen an improving flow trend with net outflows diminishing," the company said on Tuesday. So the pace of withdrawals has slowed, but hasn't halted, which suggests its asset base could be even smaller by the end of the year. Moreover, the firm itself acknowledges that the final stretch of the year isn't likely to get any easier because of challenging market conditions.
The share price also shows no signs of recovering, even though the company has had informal talks with potential buyers, Bloomberg News reported on Oct. 10. The drop of as much as 17 percent on Tuesday put the stock at its lowest level since March 2009, eroding the company's market capitalization to below 1 billion Swiss francs ($1 billion). Shareholders have seen 60 percent of their investment melt away this year.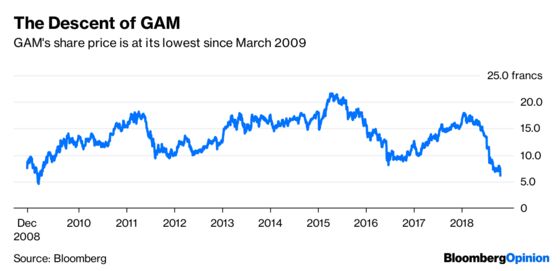 The management is responding to this crisis by promising to cut costs by "adjusting discretionary spend, the level and timing of investment across the business and building further on its previously identified efficiency gains." But there's only so much fat that can be trimmed before you start cutting into muscle, especially when your asset base is shrinking. GAM plans to update investors on its strategic priorities when it delivers its full-year results on Feb. 21.
That, though, will be more than a year since an internal whistle-blower notified the company about Haywood's alleged misconduct. That first happened in November; it took until March for the informant to notify the Financial Conduct Authority, the U.K. financial services regulator, and until July for GAM to suspend Haywood and start to liquidate the funds he oversaw. The delay has cost investors dearly.
"We continue to review all avenues to optimize shareholder value," Chairman Hugh Scott-Barrett said on Tuesday, using the time-honored language that signals a company putting itself on the block. So GAM CEO Alex Friedman is open to selling; but for now, it's far from clear that anyone is buying – either the company's funds or GAM itself.
This column does not necessarily reflect the opinion of the editorial board or Bloomberg LP and its owners.
Mark Gilbert is a Bloomberg Opinion columnist covering asset management. He previously was the London bureau chief for Bloomberg News. He is also the author of "Complicit: How Greed and Collusion Made the Credit Crisis Unstoppable."