GAM's Fallen Star Drags Asset Manager to the Brink
(Bloomberg Opinion) -- Asset managers know there's a price for everything – even for one of their own firms. After losing 60 percent of its market value this year, GAM Holding AG has attracted takeover interest, Bloomberg News reported on Wednesday.
Buying stricken rivals and ripping out costs is a well-worn strategy in money management. A bidder will have to weigh whether the potential savings outweigh the likelihood this business gets worse before it gets better.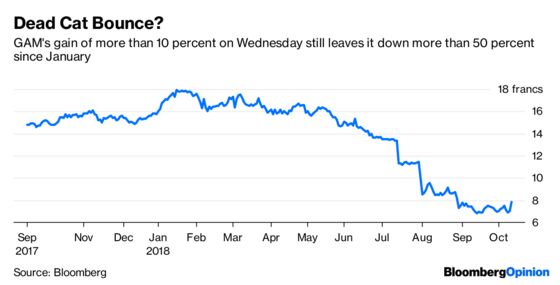 GAM's woes were exacerbated after it suspended Tim Haywood, who oversaw its flagship absolute return bond funds, following an investigation of the star fund manager's risk management procedures and record keeping.
The full ramifications of the episode remain unclear, as is the damage. GAM was already treading water: poor performance offset net inflows to leave the investment management division's assets unchanged at 84.4 billion francs ($84 billion) as of the end of the first half. 
It's not easy to be optimistic about the third quarter. GAM is liquidating more than $7 billion of assets in Haywood's fund to meet redemptions. The salesforce will have had a tough time persuading clients to deliver more of their money into its stewardship. The head of compliance recently quit after just four months. GAM's ambitious growth targets – earnings growth of more than 10 percent in the coming five to eight years – look a stretch.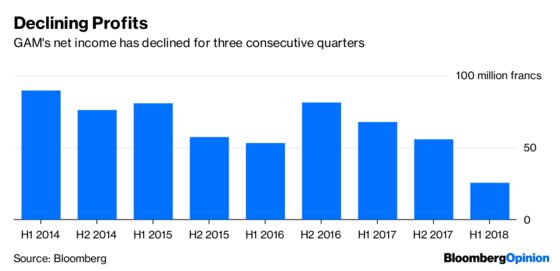 Why buy GAM? Fund management takeovers are a gamble. A change of ownership risks exacerbating outflows. Investment consultants get nervous about the best money managers leaving, and hold off directing client funds to the target. A buyer needs to factor in further erosion in managed assets, plus the cost of retaining GAM's best managers.
The prize is the chance to shut down the acquired technology platform and migrate everything to the acquirer's instead. The buyer can also say farewell to money managers in duplicate strategies. GAM's operating costs last year were about 380 million Swiss francs – much of that could go.
A deal at a 30 percent premium to GAM's closing price on Tuesday would value the equity at 1.5 billion francs, or 1.1 billion francs after deducting net cash. Analysts reckon GAM will make roughly 200 million Swiss francs of operating profit in 2019. Assume the buyer could boost that to 300 million Swiss francs. Even after deducting tax, the return on an acquisition would be comfortably in double digits if the forecasts are accurate.
The trick has been done before – think of Henderson's acquisitions of New Star Asset Management in 2009 and Gartmore Group in 2011, before it tied up with a U.S. competitor to form Janus Henderson Group Plc. But GAM is unlikely to roll over easily. Silchester International Investors LP, which owns a 15 percent stake, may be fed up – but not so much as to sell its holding at such a low price.
CEO Alex Friedman has to at least try to argue for a standalone future. If GAM can serve up some good third-quarter numbers in two weeks' time, that would mark the beginnings of a defense. But its status as an independent firm looks far from secure.
This column does not necessarily reflect the opinion of the editorial board or Bloomberg LP and its owners.
Chris Hughes is a Bloomberg Opinion columnist covering deals. He previously worked for Reuters Breakingviews, as well as the Financial Times and the Independent newspaper.
Mark Gilbert is a Bloomberg Opinion columnist covering asset management. He previously was the London bureau chief for Bloomberg News. He is also the author of "Complicit: How Greed and Collusion Made the Credit Crisis Unstoppable."