Leaderless GAM's Last Defense
(Bloomberg Opinion) -- A corporate crisis that drags on will eventually claim the scalp of the CEO. On Tuesday, that moment came for Alex Friedman of GAM Holding AG. His immediate exit leaves the Swiss money manager searching for a permanent leader while clients pull their money. It's a dire situation, but keeping Friedman in the role would have been worse.
It has been a terrible year for GAM, with the firm suspending star fund manager Tim Haywood amid an investigation into the risk management of his assets. The episode shows how an issue with a single individual can damage an entire firm with supposedly stable revenue. The assets managed by Haywood are being liquidated to meet redemptions. GAM clients have pulled cash from unrelated parts of the business, too.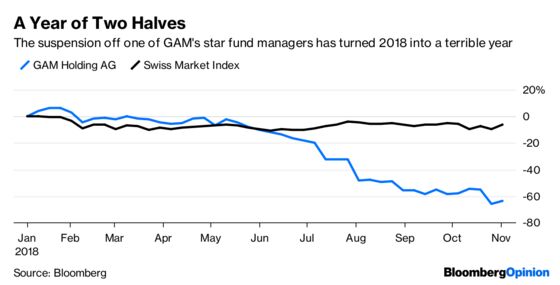 GAM's investment management business was running 67 billion Swiss francs ($67 billion) at the end of September, down nearly 18 billion francs in just three months. Since January, the company's market value has fallen to 937 million Swiss francs from about 2.9 billion francs.
As CEO, Friedman was accountable for the weaknesses in GAM's controls which the episode appears to have exposed. A boss who responds well to a crisis can redeem the failure to prevent it and emerge with their authority strengthened. But Friedman's response seems to have been slower than the situation demanded, and his authority has suffered.
The departure creates space for credible leadership, but does little more. Board member David Jacob is stepping in pending a permanent replacement. The industry veteran isn't unblemished by the mess around Haywood's suspension: he served on GAM's audit committee, which is responsible for ensuring a robust compliance culture. Having previously stepped back from executive life, he probably doesn't want the job for good anyway.
It's not for Jacob to make any big strategic changes, and he doesn't need to. Ironically, Friedman was taking GAM in the right direction, focusing on more creative strategies. GAM's investment performance remains reasonable. But the firm needs to adapt rapidly: costs are too big relative to its shrunken managed assets. The best Jacob can do is douse the burning fire and hand over a smaller, but stable and profitable business to his successor who can worry about finding a way of getting it back to growth.
Who would take on the job? GAM's absolute size and relative valuation have fallen leaving it vulnerable to takeover. A leadership hiatus exacerbates the vulnerability. An informal public approach at a reasonable premium would put the board under huge pressure to engage. A permanent CEO may therefore only be temporary.
GAM's best defense right now is that hostile deals are hard in fund management given they just cause more disruption. That might just provide some cover for a new broom to step in and lead a revival. But time is tight.
This column does not necessarily reflect the opinion of the editorial board or Bloomberg LP and its owners.
Chris Hughes is a Bloomberg Opinion columnist covering deals. He previously worked for Reuters Breakingviews, as well as the Financial Times and the Independent newspaper.