France's Carrefour Is Left to Fight Amazon and Aldi Alone
(Bloomberg Opinion) -- Just days after Canada's Alimentation Couche-Tard Inc. said it was in talks with French grocer Carrefour SA on a potential deal, the two sides have walked away. The tie-up seems to have been sunk by French politics.
The about-face deprives Carrefour's shareholders, including France's richest man Bernard Arnault, of an ideal exit from what has long been a difficult situation.
Should Couche-Tard have paid 20 euros per share, it would have valued Carrefour at about 16 billion euros ($19.3 billion) — equivalent to its highest share price since August 2017, just after Chief Executive Officer Alexandre Bompard took up the role. 
Instead, the grocer's shares fell as much as 7.6% on Monday on the news.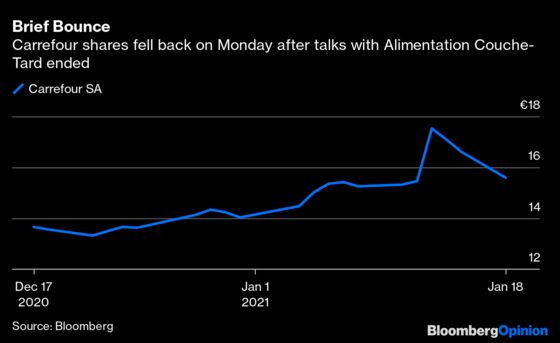 Even if the deal had overcome the political hurdles, it's not clear how successful an acquisition would have been. Unlike selling dresses or electronics, food retail is a much more local business. Consumer tastes are markedly different across regions, and supply lines for fresh food are short, limiting the scope for economies of scale. Walmart Inc., Tesco Plc and even Carrefour itself have all retreated from international outposts over the past decade, opting to shore up their domestic operations.
With a potential bid off the table for now, Carrefour goes back to square one. Bompard, who himself would probably have enjoyed an exit from a business that has defeated numerous CEOs, must now get back to the day job. 
The sad fact is, Carrefour is saddled with about 700 giant stores across Europe — and many aren't doing so well. When these hypermarkets arrived in France in the 1960s, they offered customers a one-stop shop to buy everything from tomatoes to slippers. Today that one-stop shop is Amazon Inc., which remains an ever present threat to Carrefour's online grocery efforts and its in-store non-food sales. On top of that, the grocer must also fend off competition in France from privately held local rivals such as Leclerc SA as well as German discounters Aldi and Lidl. 
That Carrefour was prepared to entertain an offer may raise doubts about its stand-alone strategy of developing convenience stores, online shopping and organic food, while trying to reduce it exposure to those problematic hypermarkets.
But it could also be a reflection that current trading is probably as good as it's going to get for a while. Food shopping was boosted by the pandemic, as European consumers were forced to stay home and rediscover big weekly shopping trips. This demand won't last once enough people get vaccinated and start going out again.
The odds of another bidder taking a pass at Carrefour aren't looking too good either. Although supermarkets have significant attractions right now — such as elevated food demand and significant real estate portfolios — a buyer will likely be wary of encountering the same political interference.
Couche-Tard and Carrefour will also continue working together on areas such as fuel purchases. The benefits will be limited, and Carrefour already has a buying alliance with the U.K.'s Tesco. But at least the two sides will stay in contact. That could prove useful for Bompard if life for Carrefour gets tougher, and no other predator emerges.
This column does not necessarily reflect the opinion of the editorial board or Bloomberg LP and its owners.
Andrea Felsted is a Bloomberg Opinion columnist covering the consumer and retail industries. She previously worked at the Financial Times.