France Should Be Less French About Its Chips
(Bloomberg Opinion) -- If there was any lingering hope of creating a European semiconductor champion, the French government seems to have killed it.
Things perhaps were more promising last year, when Germany's Infineon Technologies AG approached STMicroelectronics NV about a possible takeover, Bloomberg News reported Wednesday. The French and Italian governments hold a combined 28 percent stake in the target, and the French government not only quashed the deal, it's still opposed to one.
That doesn't mean the rationale for a combination has also died. Far from it. Europe's silicon giants still have a problem of scale when compared to their rivals, most notably Texas Instruments Inc., as Bloomberg Intelligence analysts Anand Srinivasan and Johnathan Ritucci have pointed out. The American peer has almost double the sales of Infineon, which helps it enjoy a 65 percent gross margin, compared with the European companies' 43 percent average.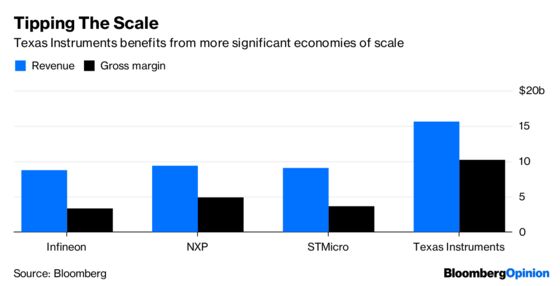 One cause of Gallic chagrin to the tie-up may have been that the deal would relegate the French company to the status of junior partner – STMicro's market capitalization of 17 billion euros ($19.7 billion) is squarely in the shadow of Infineon's 26 billion euros.
It's a shame, because the industrial logic makes sense.  The French company's wireless communications would combine well with Infineon's industrial business to drive a push into connected factories. And surely competition authorities could have swallowed the 23 percent market share the combined company would have in automotive chips.
A good alternative for Infineon would be a tie-up with Netherlands-based NXP Semiconductors NV. Their wireless communication businesses would mesh well together. True, NXP's $33 billion valuation suggests that it would dominate – but if Infineon were to push its luck, it might secure a merger of equals.
That's not to suggest a deal NXP would be an easy ride. For a start, regulators may struggle to swallow the 29 percent market share in automotive chips that a combined company would have. 
More important may be that NXP is just emerging from a 21-month takeover attempt by Qualcomm Inc., a deal which fell apart after China withheld regulatory approval. After such a protracted spell of uncertainty, the Dutch company seems unwilling to repeat the process.
Chief Executive Officer Rick Clemmer told Bloomberg News in an interview last week that "uncertainty will keep us from doing such a deal in the near future." If he was nearing retirement when the Qualcomm deal was announced (he's now 65) but stayed on to see the deal through, he may not be willing to stomach another few years of regulatory headbutting when there's no guarantee of success. His aim now seems to be getting NXP on an even keel.
There are hurdles, but for NXP the prize may make the effort to overcome them worthwhile  – both it, and Infineon, seem to recognize the need for a tie-up that would provide the scale to compete. While the timing of merger execution risks isn't ideal, since the Internet of Things is driving a surge in industrial and automotive orders, the long-term benefits of finding a partner likely outweigh them.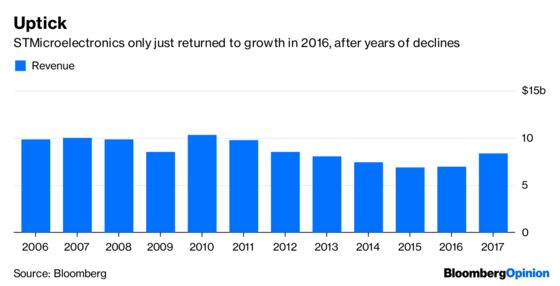 The French government has some thinking to do. Though it seems happy to keep STMicro on the sidelines now that it is enjoying its third year of growth, officials would do well to recognize that the future may not be so rosy if rivals succeed in scaling more quickly. If France waits too long, Clemmer, or his successor at NXP, might get there first.
This column does not necessarily reflect the opinion of the editorial board or Bloomberg LP and its owners.
Alex Webb is a Bloomberg Opinion columnist covering Europe's technology, media and communications industries. He previously covered Apple and other technology companies for Bloomberg News in San Francisco.