Europe's Railway Giants Take a Fast Train to Nowhere
(Bloomberg Opinion) -- Siemens AG and Alstom SA are doing themselves no favors in their bid to secure antitrust approval for a Franco-German merger of their train-making operations — dubbed "Railbus." The reason? They're making too much money.
The two companies argue that creating a European champion is essential to see off a threat from Chinese behemoth CRRC Corp., which is starting to win train contracts overseas. It's unhelpful, then, that Alstom's and Siemens' rail businesses are flourishing.
On Wednesday, Alstom said orders had more than doubled in the six months to September, compared to the same period last year, thanks to contract wins spanning Montreal, Mumbai and Morocco. The adjusted operating profit margin swelled to 7 percent, and there's little net debt. The shares have doubled since summer 2016. It's similar at Siemens AG. Orders at its mobility division jumped by a quarter in the most recent fiscal year, while the operating margin hit 10 percent.
Neither company has tried to hide its strengths, but they've talked up the threat from China, an argument that's always sounded self-serving. (My colleague David Fickling wrote similarly here.) Here's how Siemens chose to highlight the challenge: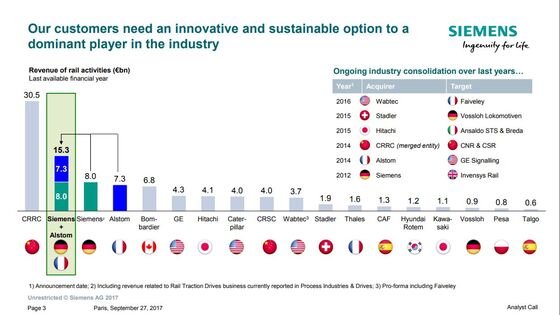 Yet while CRRC has won new foreign business, including from Deutsche Bahn, it's still focused on its home market. Non-Chinese countries accounted for just 9 percent of its sales last year. The  European Commission thinks it "unlikely" that Chinese suppliers will provide serious competition in Europe in the foreseeable future. It opened an in-depth investigation of the Alstom-Siemens deal in July, saying it could lead to higher prices and less choice. It has spelled out a long list of objections, Politico reported this week.
In fairness to the companies, Europe does have a dearth of global industrial champions, notably in technology. It's hard to compete when Chinese companies benefit from cheap financing, barriers to foreign companies, and lax antitrust enforcement. China approved the merger of its two biggest rail companies to create CRRC in 2015 even though it effectively controlled the domestic market. But just because China isn't always bothered about competition doesn't mean Europe should abandon its principles. Competition makes the best companies stronger, not weaker.
Siemens Alstom would have only a 16 percent share of the global rail equipment market, according to Barclays. But in parts of Europe, they would have a much bigger presence in high speed trains and signalling. Britain's Network Rail — which operates the country's lines — fears the deal will do "great harm" to its railways.
While the merged entity could pass the savings from having to develop only one type of new high-speed train (instead of two) to its customers, it might just as easily decide to pocket the money in higher profits.
It's possible that Siemens and Alstom will offer concessions that satisfy regulators. But that risks negating some of the 470 million euros of pretax savings identified in the deal. If it was abandoned, Alstom shareholders would miss out too on a 4 euros per share special dividend paid by Siemens.
That might be a price worth paying to preserve a competitive European market, though. As Siemens and Alstom's rail units have demonstrated. Even without a deal, they'd be in decent shape.
This column does not necessarily reflect the opinion of the editorial board or Bloomberg LP and its owners.
Chris Bryant is a Bloomberg Opinion columnist covering industrial companies. He previously worked for the Financial Times.