For Hedge Funds, the Sky Always Seems to Be Falling
(Bloomberg Opinion) -- Steven A. Cohen, the billionaire hedge fund manager who was briefly barred from the business but is back managing other people's money, told a crowd on the Upper East Side of Manhattan on Tuesday night that the bear market is coming. He didn't offer a lot of analysis to back up his argument, basically saying the stock market has been going up for a while so eventually it has to go down. "We're definitely late cycle," he said. 
The normally publicity-shy Cohen joins the members of the 2-and-20 choir who have been singing a familiar refrain that has so far been off-key. It all has just a whiff of marketing.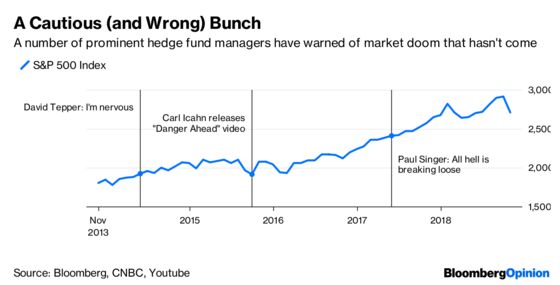 Consider David Tepper. In May 2014, the billionaire hedge fund manager said he was nervous about the market. I "wouldn't be too frickin' long," he said. Tepper's call was tepid, to be sure — he said he had reduced his own equity exposure to 60 percent from 100 percent — but it was also misguided. There was nothing to be nervous about. If investors had been frickin' long back then — i.e. had their whole retirement account in stocks — they would have done great. The S&P 500 rose 11 percent, including dividends, in the next year, and is up 65 percent since then. In that time, Tepper has warned about the market at least three other times publicly.
Then there's Carl Icahn. In September 2015, the corporate-raider-turned-activist hedge fund manager, and friend of the president, released a video on his website called "Danger Ahead." You can watch it on YouTube. There is a red line that scrolls past grainy videos of warnings with ominous music in the background. "Danger" appears on the screen in large capital letters. It's scary. And there was some danger ahead — stocks did fall in late 2015 and early 2016, but not in the doomsday fashion Icahn predicted, and quickly recovered from there.
And there have been plenty of others. David Einhorn of Greenlight Capital, who predicted the fall of Lehman Brothers, said in October 2012 that the Federal Reserve was force-feeding investors jelly donuts from which they would soon explode. Yet the only thing that got bloated was their investment accounts. Elliott Management's Paul Singer said in May 2017 that he was bracing for "all hell to break loose." And while the market has had rocky periods since then, it hasn't gone quite as south as Singer seemed to predict. The S&P 500 is up 15.2 percent since then.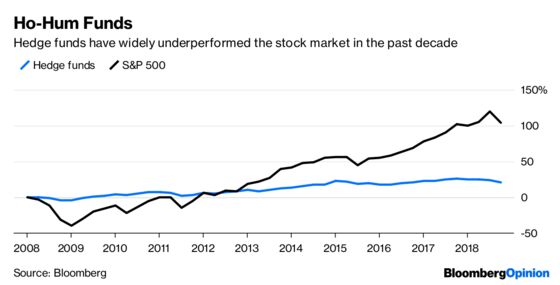 One observation is that hedge fund managers are just as bad at calling the top of the market as everyone else. And for most of them, that's not their job anyway. A number of the hedge funds managers, Tepper and Singer especially, have done quite well despite their stock market warnings. Einhorn, on the other hand, has struggled recently.
But another possible reason for the doom-and-gloom is that those warnings are generally good for business. There is a perception that hedge funds will protect investors from losses when the market falls. Hedge is in their name. And while hedge funds have widely underperformed the broader market over the last decade, in nine of the past 10 months in which the market has been down, hedge funds did better, though they still lost money in all but one of them, according to HFR, which tracks returns. (That time period also includes two other months in which hedge funds dropped but the market was up.)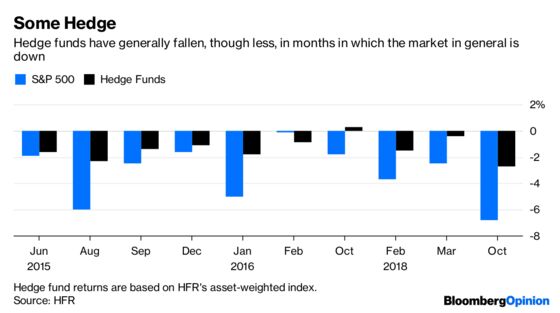 So perhaps a little apocalyptic language can help drum up assets under management if investors think they will lose money in cheap index funds. Or it could just be that hedge fund managers are a contrarian bunch and saying the market will fall when it has been rising nearly nonstop is just their nature, or fun to do.
Investors should listen with a little skepticism. Eventually, of course, the hedge fund managers' proclamations are going to come true and the market is going to go into a prolonged slump. That will put their investment mastery to the test. But it won't prove they saw it coming before everybody else. 
This column does not necessarily reflect the opinion of the editorial board or Bloomberg LP and its owners.
Stephen Gandel is a Bloomberg Opinion columnist covering banking and equity markets. He was previously a deputy digital editor for Fortune and an economics blogger at Time. He has also covered finance and the housing market.