Flight to Quality Could Signal Trouble for Stocks
(Bloomberg Opinion) -- Investors are getting a taste for the finer things, and that could signal a problem.
For much of the past few years, shares of companies generally considered lower quality have outperformed those of companies that are considered more stable. But the dynamic shifted recently. Last quarter, shares of companies considered the highest quality in the market outperformed the lowest ones, up 9.7 percent compared with 8.7 percent, according to Bank of America Merrill Lynch research. A slim victory, but a change. Before that, those low-quality stocks had outperformed easily during the past two years, rising 57 percent compared with 36 percent for the S&P 500 overall and 24 percent for the high-quality group.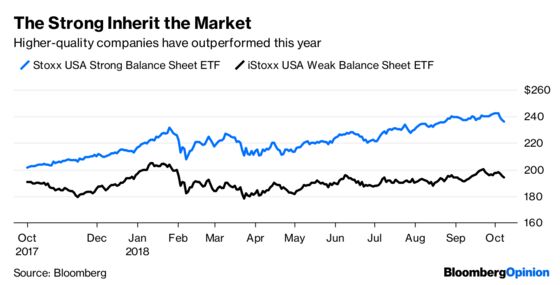 Quality, of course, like much else, is in the eye of the beholder. Bank of America uses a scale developed by S&P Global Inc. that ranks companies from A+ to D. It's not a direct rating of credit, like S&P's more famous letter scores, and there are no double or triple letters on this one. The quality ratings are tied more to companies' ability to sustainably increase earnings. But in general, companies that receive a lower score on this scale also have a greater chance of not being able to pay back their debts. And Bank of America's conclusions based on S&P's quality rankings seem in line with others' observations. Goldman Sachs found recently that a basket of companies with better balance sheets was up 13 percent this year compared with 7.5 percent for those with weaker financials.
There's also the iShares Edge MSCI Quality Factor ETF, which includes shares of companies that have a high return on equity, high earnings consistency and low leverage ratios. By that definition, the highest quality stocks in the market now, and the largest holdings of the ETF, are Apple Inc., Johnson & Johnson, Mastercard Inc., Visa Inc. and Exxon Mobil Corp. Also in the top 10 is chip maker Nvidia Corp. Technology stocks used to be considered high-growth, low-quality stocks. Bank of America notes that tech, while still a minority, has become a larger share of the high-quality stock group in the past few years. 
Many on Wall Street see the quality gauge as a sign of where investors think the stock market is headed. And that's where the recent flight to quality could signal a problem. As the market was moving up in the third quarter, many interpreted that as investors signaling they weren't worried about a possible trade war, higher interest rates or anything else that might sink the economy. Given the types of stocks they were getting into, that might not be the case, or at least less so. Investors typically overweight higher-quality stocks when they are worried the economy or market might hit a rocky patch.
Interest rates, however, could be playing a factor as well and muddying the picture. Companies with stronger balance sheets — i.e. those with less debt — will not be hurt as much when the cost of borrowing goes up. So it's possible that the shift to quality is more about corporate debt worries, which have been ringing around the market, and not investors voicing their worries about the economy in general.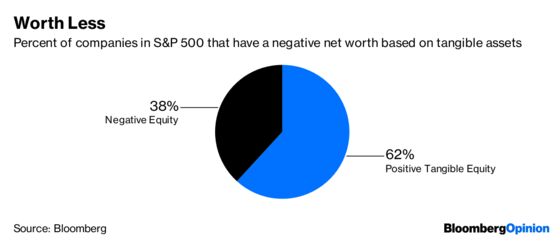 Either way, here's the biggest problem with the flight to quality, if it continues: Only 63 percent of the companies in the Russell 2000 make money, the lowest percentage in the past eight years. There are now 191 companies in the S&P 500 that have tangible book values below zero, up from 124 five years ago. Fewer companies are rated investment grade. And the consumer staple stocks that used to be the lifeboats of the market are facing their own existential crisis as consumers turn away from big brands. In short, there is a lot less quality to go around in the market. And the higher those quality stocks go, the less quality future investments they become.
Given the fewer options, a flight to quality can only sustain the market for so long — until investors decide the only way to find quality is elsewhere.
This column does not necessarily reflect the opinion of the editorial board or Bloomberg LP and its owners.
Stephen Gandel is a Bloomberg Opinion columnist covering banking and equity markets. He was previously a deputy digital editor for Fortune and an economics blogger at Time. He has also covered finance and the housing market.