Five Reasons to Bid for GAM; Five to Steer Clear
(Bloomberg Opinion) -- News that GAM Holding AG has spurned an approach from Schroders Plc for its Systematic unit confirms that the Swiss fund manager is in play after losing more than 60 percent of its value this year. But will anyone bid for the firm?
GAM rejected Schroders' overture because a sale of the business, which includes its Cantab quantitative hedge fund, risked hurting its efforts to find a buyer for the entire firm, the Financial Times reported. Investors seem skeptical that a bidder will emerge; short interest in GAM rose to its highest in 10 years last week, my Bloomberg News colleague Neil Callanan reported last week.
Here are five reasons why GAM might prove to be an unappetizing pursuit for a rival – and five arguments for why someone could make a takeover offer.
Reputation, Reputation, Reputation
GAM's suspension of star portfolio manager Tim Haywood at the end of July has dented its trustworthiness. The decision to first freeze and then liquidate the unconstrained absolute return funds he oversaw has unnerved investors who aren't accustomed to finding their money held hostage.
Meantime, the eight-month gap between a whistleblower first drawing attention to Haywood's risk-management procedures and record-keeping and the firm taking public action hasn't helped.
"It takes many good deeds to build a good reputation, and only one bad one to lose it," Benjamin Franklin is reputed to have said. GAM's reputation may be too tarnished for the brand to be salvaged by a buyer.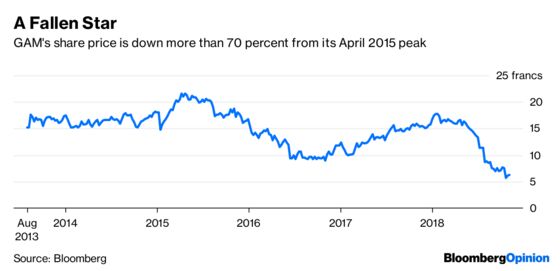 Asset Management is a People Business
The repercussions of Haywood's suspension illustrate how dependent asset managers are on the people who run the portfolios to attract new customers and hang onto existing clients. Company culture is notoriously slippery; GAM's damaged psyche make it a particularly bruised prize, and its staff might not take kindly to being pawns in a fire sale.
"Our assets walk out of the door each evening; we have to make sure that they come back the next morning," said N.R. Narayana Murthy, one of the founders of Infosys Ltd. How sure would a buyer of GAM be that its assets won't walk to a rival firm offering greater stability?
Even Assuming a Takeover Premium, It's Really Cheap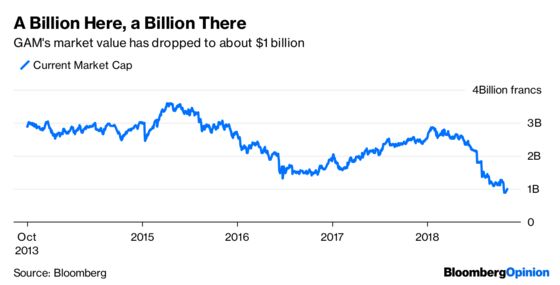 GAM says it has tightened up its internal controls in the wake of the Haywood debacle. But the market regulators in the various jurisdictions in which his absolute return funds were marketed will have been furious about the need to freeze those funds. A potential buyer of the firm would have to include the possibility of retaliatory fines in its math – not an easy calculation given the unprecedented nature of the calamity.
I Mean, It's Really, Really Cheap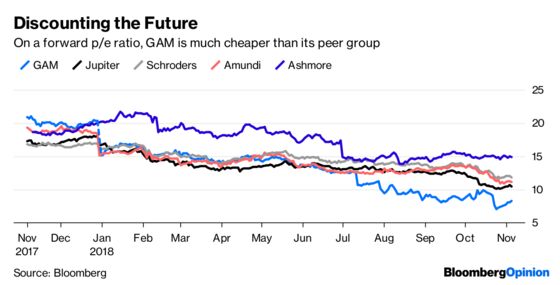 Assets at GAM's investment management unit declined by more than a fifth in the third quarter, dropping to less than 67 billion Swiss francs ($67 billion). It said last month that market conditions will remain challenging in the final three months of the year.
A potential buyer would have to stanch those outflows, and fast. But it's far from clear that GAM's customers would have the stomach to stick around during what's likely to be a less-than-harmonious takeover.
It's Never Been This Cheap
On a price-to-book ratio, GAM is the cheapest it's been since it was spun out of Julius Baer Group Ltd. almost a decade ago.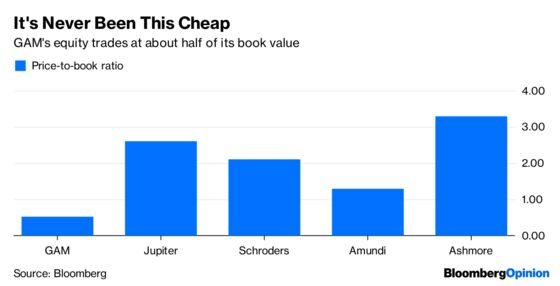 Why Invest in an Investment Firm?
Actively managed funds are still suffering intense competition from their lower-cost passive brethren. And while consolidation has been touted as way to avoid extinction, few firms have taken the plunge so far. Size might not offer the salvation it seems to. Rather than buying GAM and taking on its world of hurt, rivals might be better off trying to poach its best customers – not to mention seducing its staff into jumping ship.

Did I mention it's cheap?
This column does not necessarily reflect the opinion of the editorial board or Bloomberg LP and its owners.
Mark Gilbert is a Bloomberg Opinion columnist covering asset management. He previously was the London bureau chief for Bloomberg News. He is also the author of "Complicit: How Greed and Collusion Made the Credit Crisis Unstoppable."