Funding Circle's Hopes Get a Reality Check
(Bloomberg Opinion) -- Investors' pens are hovering a bit longer before writing checks to fintech startups.
Funding Circle Holdings Plc was once tipped to be valued at as much as 2 billion pounds ($2.6 billion) in its initial public offering. When it made its market debut on Friday, the online lending marketplace weighed in at a skinnier 1.5 billion pounds.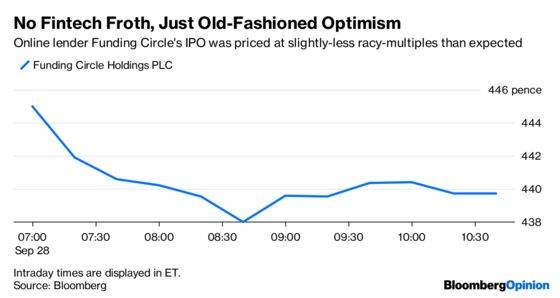 That's still a racy 15 times last year's revenue, and a sign that investors expect a lot of growth. But given the many fintech startups promising great things, it's a timely reminder of execution risk.
Funding Circle's story is relatively straightforward: It matches small businesses that need money with institutional and individual lenders who have it, taking a cut along the way. The firm is unprofitable — but that's not so bad when revenue grew 54 percent in the first half of this year alone. The platform expects future growth to be about 40 percent as it expands in the U.S. and Europe.
It was always a long shot for Funding Circle to imagine it would attract the same kind of frothy demand seen as payments startup Adyen NV — whose market value of 20.6 billion euros ($24 billion) now eclipses that of Germany's Deutsche Bank AG.
Adyen is both fast-growing and profitable. It enjoys an underlying profit margin of almost 50 percent in an online-payments market that's booming. Funding Circle's margins are negative, and it spends almost half of its revenue on marketing alone.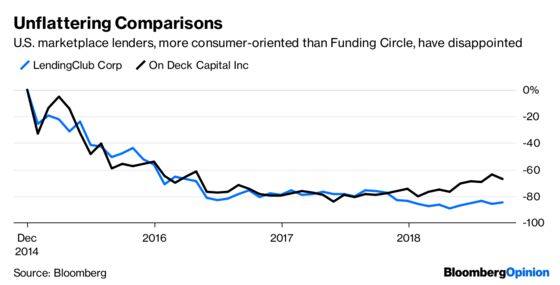 The performance of peer-to-peer lending platforms in the U.S. can't have helped: LendingClub Corp. and On Deck Capital Inc. shares have fallen 85 percent and 67 percent respectively over the past five years as growth slowed and concern grew about their risk-management practices.
Funding Circle targets corporate borrowers rather than consumers, but its growth path still requires optimism. It is expanding into new territories, where established banks and new entrants are already competing, where regulations aren't always joined up, and where Brexit might bring additional costs.
You could argue that the network effects and repeat business of a brand like Funding Circle in the wake of banks' post-crisis retrenchment will still win out in the war for market share. But that doesn't answer the big question investors have about what happens to these businesses when the economic cycle turns. Risk management and growth have to go hand in hand — and companies like Funding Circle haven't truly been tested by recession, surging defaults or a market-wide reappraisal of risk. Faith in these platforms' technology advantage is still untested.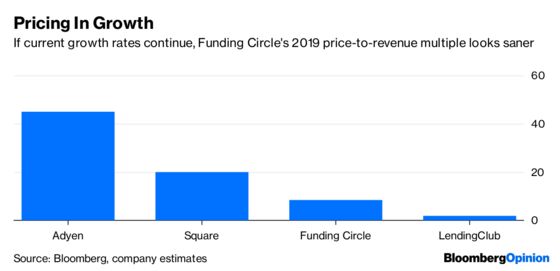 Funding Circle's valuation could still start to look a little more reasonable in the fintech pecking order if growth continues at the current rate. At 8.5 times estimated revenue for 2019, it's on a lower multiple than than Square Inc., which trades at 20 times estimated adjusted revenue, and higher than LendingClub or OnDeck. But if Funding Circle trips up, expect worse headaches to come.
This column does not necessarily reflect the opinion of the editorial board or Bloomberg LP and its owners.
Lionel Laurent is a Bloomberg Opinion columnist covering finance and markets. He previously worked at Reuters and Forbes.