Fintech 'Predator' Might Just End Up as Roadkill
(Bloomberg Opinion) -- France's Ingenico Group SA straddles two fintech worlds: an old-school one of credit card payment terminals, and a shiny new one of all-digital financial transactions.
The company's expensive attempts to focus on the latter have helped knock about a quarter off its share price this year, while upstarts like Adyen NV have soared. The decline in Ingenico's value has opened the door to potential suitors but, unless private equity gets involved, don't expect a frothy bidding war.
The French company is a bruised asset that needs work. Its 1.5 billion-euro ($1.75 billion) acquisition of Swedish rival Bambora in 2017 made sense strategically, but it was pricey and will take time to deliver. Still, the acquisition has proven more promising than Ingenico's heritage business of payments terminals, which is growing slowly in a saturated market. A profit warning on Tuesday showed the gap between these two divisions is widening.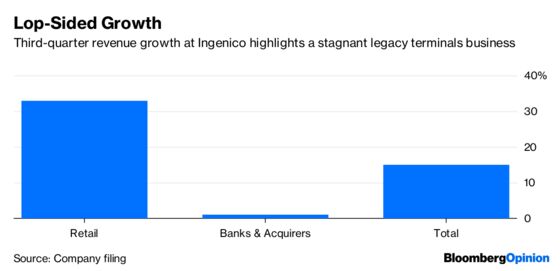 It's no surprise that the firm is reviewing its strategic options. Those two business pillars would benefit from an overhaul under new leadership, preferably away from the pressure of a stock-market listing — something along the lines of Francisco Partners' buyout of Ingenico's big U.S. rival Verifone. So far, most of the attention is on preliminary talks with French bank Natixis SA, which would seem to lack the appeal and financial firepower of a private-equity takeover.
Natixis has a payments business that's pretty French, so there's some logic to a deal that would offer it more international diversity. But it's hard to imagine a dividend-paying bank wanting to pay top dollar. A 30-percent premium on top of the current share price would give Ingenico an equity value of about 5.4 billion euros and an enterprise value of about 7 billion euros. That would imply a deal value of about 13 times forward Ebitda, higher than its peer group average, according to Bloomberg data. While much cheaper than the 37 times multiple Ingenico paid for Bambora, a cost-conscious bidder might be wary of the firm's lop-sided growth perspective.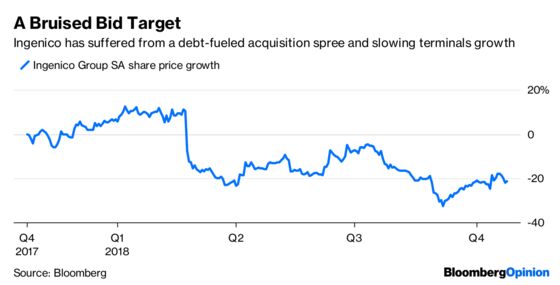 Natixis is on a budget, and its own shares are at their lowest since 2016. New CEO Francois Riahi has earmarked about 2.5 billion euros for acquisitions over the next two years, and has even dangled the prospect of a special dividend for shareholders if no deals are found. An Ingenico takeover would require a capital increase, and would need a credible promise of cost savings and profit growth. The more likely option of an asset swap would remove some of these problems, but not all of them.
Ingenico's boss Philippe Lazare said earlier this year that his firm was a predator rather than prey. But while it may technically have the means to make bolt-on acquisitions, its next big deal looks more likely to be a sale. Without a generous private equity savior riding into view, there's a risk it will become M&A roadkill.
This column does not necessarily reflect the opinion of the editorial board or Bloomberg LP and its owners.
Lionel Laurent is a Bloomberg Opinion columnist covering finance and markets. He previously worked at Reuters and Forbes.