Fiat Chrysler Superman Was Only Human After All
(Bloomberg Opinion) -- There's a lot we still don't know about Sergio Marchionne's health problems before his unexpected death this week. The Fiat Chrysler CEO's apparent wish to keep them private, even from the board, will seem problematic to shareholders, analysts and directors who prize transparency.
But barring any unexpected revelations, this doesn't look like a corporate-governance breakdown — more a possible reminder that superstar CEOs often feel they can solve their own problems.
Speculation is rife about who knew what, and when. The rapid worsening of Marchionne's condition after what was meant to be routine surgery, and the revelation by a Zurich hospital that he'd been seriously ill for more than a year, seem to clash with professed ignorance at the corporate level. Fiat Chrysler Automobiles NV has said it wasn't aware of his condition, something that Marchionne's family has confirmed, according to Bloomberg News.
Even if it seems odd, it is feasible that Marchionne was able to keep his medical problems hidden from view, largely because they don't seem to have affected his ability to serve as CEO. As recently as a month ago, he was presenting the company's strategic plan to analysts and investors and paving the way for his planned retirement in 2019. He was in high enough spirits to pull a "Superman" move, zipping down his sweater to reveal a necktie — something he hadn't worn for years. "I have never seen a brighter future," said John Elkann, scion of Fiat's founding family, on the same day.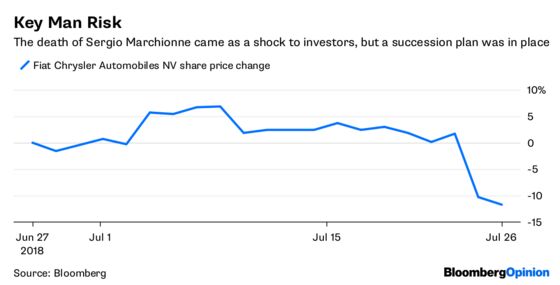 So, given that he appeared to be fulfilling his duties while receiving treatment, the next question would be whether his sudden absence left a gap at the top of the company. But successors had already been identified in view of his imminent retirement. When Marchionne's family confirmed he wouldn't return to work, Fiat Chrysler's board decided that Mike Manley would take over. There was no chaotic or haphazard search for a replacement.
This all seems somewhat different to past examples of CEO health secrecy, such as when Apple Inc.'s founder Steve Jobs blamed his increasingly gaunt appearance on a hormone imbalance that would be easy to treat. It turned out to be cancer. Or Lazard boss Bruce Wasserstein, who died in 2009 after being hospitalized for an irregular heartbeat. Colleagues later told reporters that he'd been absent for months and seemed very sick. Marchionne, by contrast, seemed fine.
Should we have expected more from a corporate leader who's been hailed this week for saving Fiat from destruction and lauded as one of Italy's finest CEOs? Probably not. Powerful bosses are often aggressive optimists. Maybe Marchionne thought he would get through any health issues, or that any disclosure would affect his standing.
The responsibility lies with the board of directors on how much medical information they demand from their CEO. One option could be insisting on yearly health checks, which would allow for more oversight without public disclosure. But that still seems like an invasion of privacy, and one that goes beyond current corporate best practice, according to Alessandro Zattoni at Rome's LUISS Business School.
Unless we discover that there's more to the story, it's hard to put the blame at the door of Fiat's board members. Marchionne should have been more forthcoming. But that's the thing about powerful superstar bosses: They tend to make their own rules. 
This column does not necessarily reflect the opinion of the editorial board or Bloomberg LP and its owners.
Lionel Laurent is a Bloomberg Opinion columnist covering finance and markets. He previously worked at Reuters and Forbes.