Federer's Match Made in Retail Heaven
(Bloomberg Opinion) -- At first glance, it seems like something of a mismatch. Uniqlo, the Japanese fast fashion brand, is paying $300 million over 10 years to replace Nike Inc. as the kit sponsor for Roger Federer.
The Swiss might be the greatest male tennis player ever, but at 36 his best years are behind him. From a commercial perspective, he seems to have aced it. And Uniqlo looks like it's paying an awful lot for a sportsman who isn't too far off from retirement.
A less cursory look tells a different story. Uniqlo parent Fast Retailing Co. Ltd. is enduring slowing growth in its home Japanese market, which accounts for more than half of all revenue. It's therefore accelerating a push into both international markets, which it wants to overtake Japanese sales this year, and e-commerce.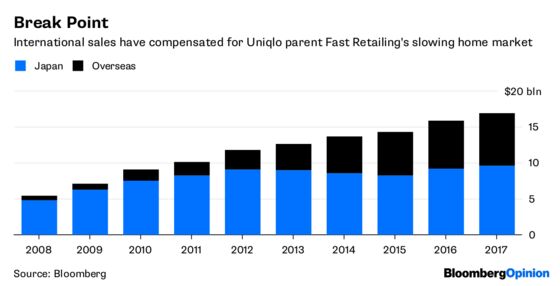 The problem for the $18 billion-revenue company is that, as much as it wants to present itself as a big-data whiz kid, the price it charges for its products rules out a fully digital response.
It can cost about $25 to acquire a new customer with a digital advertisement push or paid search results. For the likes of Hugo Boss AG, whose cheapest t-shirts can still cost $40, that cost is relatively easier to stomach. For Uniqlo, whose t-shirts sell for as little as $6, it's harder to make the economics of a digital campaign add up. 
Of course, Fast Retailing will still use digital ads, but it will get the most bang for its marketing buck when it can get customers specifically to seek out Uniqlo, not just a generic white t-shirt in an internet search. Instead, as it tries to expand in North America and Europe, Uniqlo needs to build brand awareness and a desire to visit its stores or website. That's where Federer comes in. Even in the twilight of his career, ESPN ranks him as the world's fourth most famous sports star.
His deal pales in comparison to some others for athletes at the top of their games. Cristiano Ronaldo and LeBron James have both signed so-called "lifetime" deals with Nike. The LeBron deal was conservatively estimated to be worth $500 million, with others placing it as high as $1 billion. Ronaldo's is believed to be similar. Nike sells pricey soccer- and basketball-specific gear which can generate more value than a tennis shirt. Ex-basketball player Michael Jordan's eponymous sneaker line, admittedly the pinnacle of such efforts, drove $3.1 billion in sales for Nike last year.
As a slice of Fast Retailing's 808 billion-yen ($4.9 billion) international sales last year, $30 million for Federer is insignificant. Uniqlo doesn't at present make tennis shoes or rackets, helping explain Federer's lower price.
And a retirement inside the next five years oughtn't to be a major concern: Sprinter Usain Bolt still sits at number 7 in ESPN's fame rankings a year after he retired.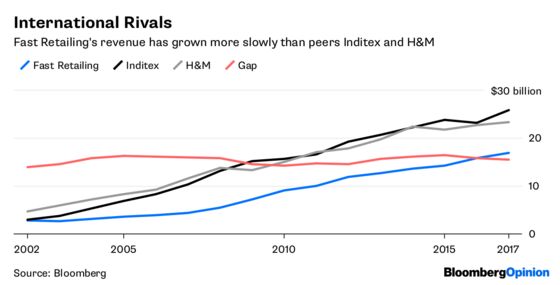 You might wonder why a lower-end mass market retailer would go for a tennis star, given the lower rates of viewership compared to soccer. But it's actually a good fit. Tennis fans spend more money than soccer followers, and as a group have a more equal gender balance than soccer followers. And he's more likely to attract buyers of the smart-casualwear that Uniqlo stocks, whereas LeBron and Ronaldo don't match up here so well – though they're a great fit for attracting buyers to Nike's urbanwear. 
It really is a case of love-all for these mixed doubles.