Jeremy Corbyn Provokes a Strike in the Bond Markets
(Bloomberg Opinion) -- There's something strange going on in the market for U.K. government bonds (known as gilts) for the first time since the Brexit process started. In the last three weeks, the fall in yields on gilts out to 10-years maturity has been as pronounced as the increase in political heat on Prime Minister Theresa May. Yet longer-dated paper hasn't budged.
The 10-year to 30-year curve – which shows the difference between yields of shorter and longer maturities – has steepened sharply by 35 basis points, the opposite of the flattening seen after the Brexit referendum in June 2016.
So investors are reacting to the short-term uncertainty around Brexit by seeking refuge in shorter-dated gilts. But they're shunning the longer end. There's probably one explanation for this: Fear of Jeremy Corbyn's high-spending Labour Party taking power amid the chaos.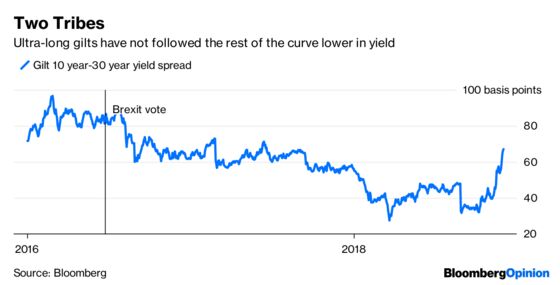 This is down to the type of investor that buys very long-dated gilts.
What we're seeing here is an effective buyers' strike among domestic pension and life insurance funds that dominate the illiquid ultra-long sector. They put more weight on a country's future inflation, and on how much debt a future government might issue, and there's already a big refunding hump in the next four years for Britain to navigate. The prospect of an avowedly Socialist government under Corbyn is weighing heavily on their thoughts.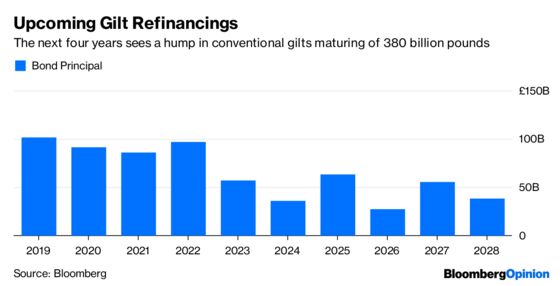 As almost all of the U.K. yield curve yields less than two percent, meaning there's a negative return after adjusting for inflation, there's little incentive to raise your holdings as yields drop further. As long-term "buy-and-hold" investors, those big domestic funds have the luxury to wait to see how Brexit plays out.
The shorter end is different, of course, because most investors want liquidity when they're seeking a haven. If the situation worsens – or improves – in Britain, they need the option to move their money elsewhere or into other asset classes. Since Nov. 8, 10-year gilt yields have fallen 20 basis points propelled by a classic flight to safety. Admittedly, this is largely in line with U.S. Treasuries. But there's more to this than just a blind parallel move; amid the Brexit chaos, traders are no longer pricing in as many future rate hikes from the Bank of England.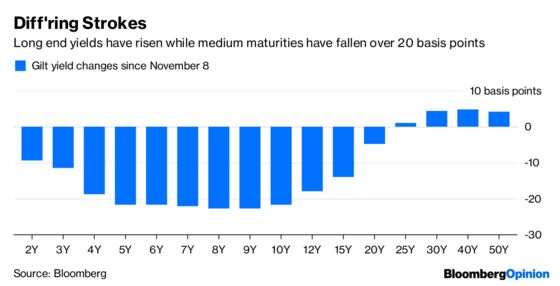 Somewhat counter-intuitively, the weakness of sterling has also helped boost shorter-dated gilts. Foreign investors bought 17 billion pounds ($21.7 billion) of gilts in October, substantially more than in previous months. A large chunk of that is probably central bank reserve managers maintaining their weighting in sterling by buying on dips.
This yield curve shift is a portent of what's to come should political infighting bring down the ruling Conservative Party. Investors are paid to look ahead and avoid icebergs, and Corbyn is certainly one of those.
This column does not necessarily reflect the opinion of the editorial board or Bloomberg LP and its owners.
Marcus Ashworth is a Bloomberg Opinion columnist covering European markets. He spent three decades in the banking industry, most recently as chief markets strategist at Haitong Securities in London.