Exxon Is Lucky Big Oil Had a Week to Forget
(Bloomberg Opinion) -- It hasn't been Big Oil's finest week. Appropriately enough, the biggest of the gang had a shocker of a Friday.
Exxon Mobil Corp. does things bigger than most, and that also applies to missing expectations, it seems. It reported earnings and cash flow per share in the latest quarter that were both short of consensus forecasts by more than 20 percent. Production of oil and gas, especially the latter, fell heavily. As a result, free cash flow after capital expenditure was down almost 40 percent from a year earlier and wasn't enough to cover the company's totemic dividend.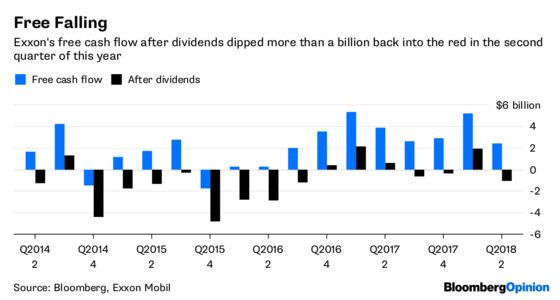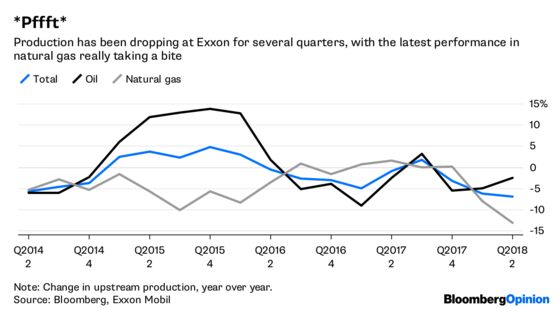 There were some extenuating circumstances at play, most notably several earthquakes this year in Papua New Guinea. Even so, production was weak across the board. Similar to Royal Dutch Shell Plc and Chevron Corp., Exxon's international downstream business also turned in a poor performance.
Unsurprisingly, Friday morning's earnings call had a notably defensive quality at times, with Neil Chapman, Exxon's head of upstream, emphasizing that the second quarter was a "low point" for production and that the company is "all over" fixing its issues in the downstream business.
That Chapman was even on the call reflects a significant shift by Exxon, as it tries to assuage growing criticism about a habitual aloofness that recent performance no longer justifies. One look at what's happened to Exxon's traditional premium to its peers tells the story here: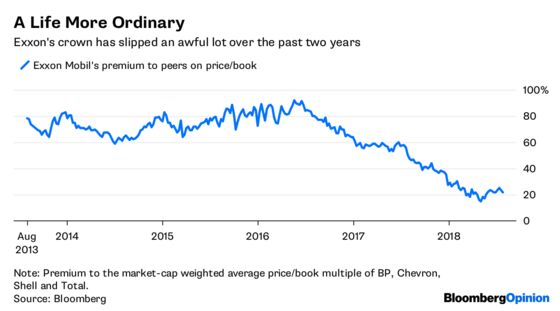 Exxon is thus in the unusual position of having to prove itself. Its messaging on production — that it favors value over volume — is the right one. But its strongest growth of recent years was in 2015, in the depths of the price crash, and it's struggling now as prices recover. That's just not a good look. Equally, shifting resources toward liquids-rich areas of the Permian basin and away from natural gas makes perfect sense — but is also a reminder of the lingering drag on returns from 2010's XTO Energy deal.
Exxon is lucky in one regard, and that is the fact that its closest peers, Chevron and Shell, also disappointed investors with second-quarter results this week. Even such relativism is an unfamiliar position for Exxon, though, which prides itself on being the best in absolute terms.
Moreover, Chevron and Shell, which are now transitioning from sowing to reaping in their investment cycle, can at least proffer share buybacks to appease shareholders somewhat. Exxon isn't ready to resume these. Consider that free cash flow slumped compared with the same quarter last year, despite oil prices being up by roughly 50 percent. That stands in marked contrast to former peer ConocoPhillips — now just an upstream company — which almost doubled free cash flow in the quarter.
Exxon's lack of leverage to oil prices is partly a reflection of its integrated model. But that model is supposed to also provide a stabilizing offset — one not in evidence of late. Exxon's recent successes, such as its discoveries offshore Guyana, are real enough, but offer little compelling reason to own the stock today.
As I wrote here, mining Exxon's portfolio for a more-aggressive disposals program could change that. And, indeed, asked about this on Friday's call, Chapman offered assurance that Exxon is "actively looking" at its portfolio. More quarters like this one, and looking, active or otherwise, won't be enough to keep the company first among equals.
This column does not necessarily reflect the opinion of the editorial board or Bloomberg LP and its owners.
Liam Denning is a Bloomberg Opinion columnist covering energy, mining and commodities. He previously was editor of the Wall Street Journal's Heard on the Street column and wrote for the Financial Times' Lex column. He was also an investment banker.